Summer is one of the best times of the year. But with summer goes an obnoxious amount of household pests, especially ants. Lets face it, nothing kills a mood quite like opening the sugar container and seeing a group of ants feasting away. Conquer the army of ants before they get inside your home with this fantastic all natural ant killer. Wouldn't it be nice to put some sugar into your freshly squeezed lemonade without finding an ant floating around?

Ants are a problem for just about everyone!  Killing them doesn't need to involve poisons or other harsh chemicals which can be harmful to pets and children.
Ants leave a scented trail that other ants follow. This allows them to get to and from their homes without getting lost while carrying their heavy loads. Determine where the ant trail begins and sprinkle cornstarch along their pathway. Be sure to sprinkle it in the pathway so they pick up the corn starch and carry it home with them. Leave for 24 hours and allow the ants to carry the cornstarch back.  After the ants have had a chance to get coated with the dry cornstarch, get the ants wet with a spray bottle.  Be careful to not get them too wet as this will wash off the cornstarch.  The water reacts with the cornstarch and creates a cement like mixture that traps and kills the pests.  Rinse or sweep away after all of the ants have been killed!  NOTE: this may take a few hours to be fully effective. But be patient and you will notice a difference. This works both indoors and outdoors!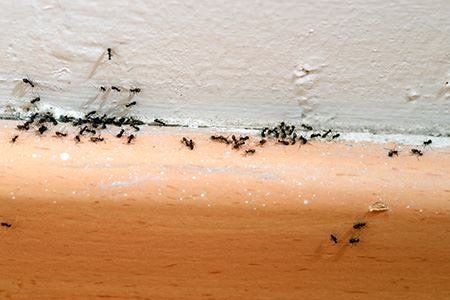 There are lots of other methods for killing ants, including spraying them with soapy water or vinegar, but cornstarch is the safest and most effective.  (And the least expensive!)