If you love to garden but can't seem to get the bountiful harvest you're after, maybe the problem is your soil. You can add as much fertilizer as you want, but if your soil is of poor quality, your plants still won't get all the nutrients they need to thrive. If you want your plants to be as good to you as you are to them, you'll need to amend your soil to make it more robust. Here are 10 ways to improve the quality of your soil — naturally.
Learn more about your garden soil with these articles:
How to Reuse Banana Peels  in the Garden!
Alfalfa contains trace minerals, nitrogen, and other goodies that your plants will absolutely love. You'll need 25-50 lbs per 1,000 square feet.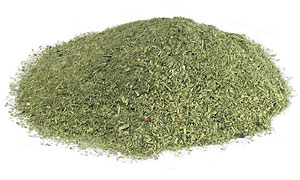 2. Chicken Poop
Yep, composted chicken manure is fabulous for mulching, moisture retention, and soil nutrients.

If you have heavy clay soil, gypsum can help loosen it up. But it also provides important levels of calcium and sulfur.

4. Worm Castings
Worm castings make up the most nutrient-dense organic compost you can get. Worm castings helps with water retention and nutrient release.

Kelp meal contains tons of micronutrients. It also strengthens plants against disease, pests, frost and more.

It sounds ominous, but blood meal is fantastic for your garden. It provides robust, slow-release nitrogen your plants need, and it's full of nitrogen.

7. Compost
Fertilizer will never do you as much good as a soil that's been amended with great compost. Compost provides a organic matter and other vital soil builders your plants need.

8. Shellfish Meal
With 23% nitrogen, plus phosphorus and trace minerals and chitin, shellfish meal is one of the best things you can do for your plants.

9. Egg Shells
Ground up egg shells and mix them with your soil. They have a ton of calcium, which is fantastic for your veggies. It also deters pests!

10. Coffee Grounds
Spent coffee grounds add much-needed organic matter to your soil, and also attract earth worms to help aerate.