As the weather warms up and you begin to entertain outside more, don't rely on bright mood-killing floodlights to light up your evening party.  Instead, try some awesome Tiki torch ideas to light up your get-together well into the night. Here are some fun and creative Tiki torch designs to try out in your own yard.

Backyard Tiki Torches
Mason Jar
This is a great choice because it's simple, easy, and you can make a lot of them. Because the jars are clear, buy or make colored Tiki torch fluid. This is a fun way to add more color to your backyard.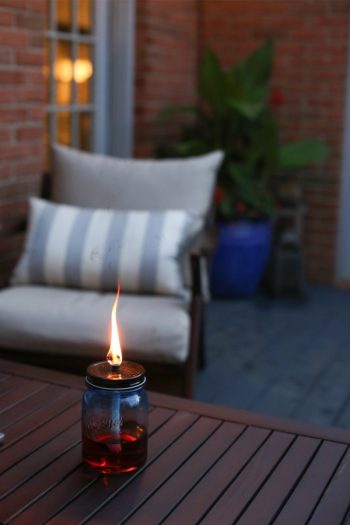 Hanging Wine Bottle
With just a few metal attachments, you can add some great wall-mounted lights to your patio and backyard. Not only that, but converting wine bottles into Tiki torches is a classy touch to give your party an even better feel.
Table Wine Bottle
If you don't want to spend time installing wall mounts, then simply make Tiki torches out of wine bottles. Place them on your outdoor tables. They'll still provide enough light for your guests to see, just make sure they can't be knocked over or broken.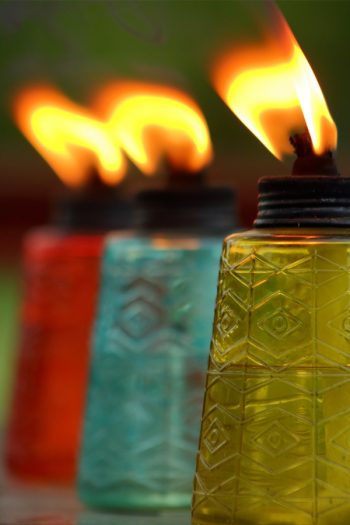 Liquor Bottle
Liquor bottles have a unique shape. Try them in colors to add depth to your Tiki torch design. Make sure you put them in safe spots where they'll  give off light without being a safety hazard.
Decorated Bottle
If you don't want to see any alcohol brands or logos, then take the bottles and decorate them with whatever materials you want. Paint them or wrap them with burlap. Wine and liquor bottles make for great Tiki torches because of their shape, but you can use any bottle you want.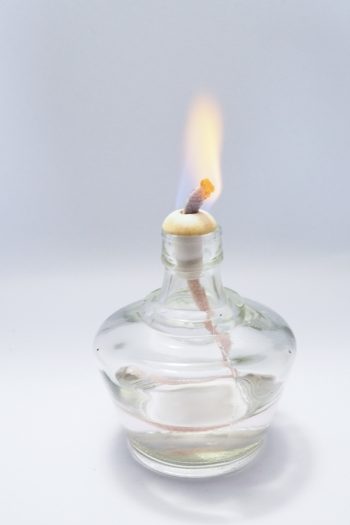 Any Glass Bottle
You really can use any bottle you want for a Tiki torch. Just choose a color and shape you like. Follow the tutorial to convert it into a Tiki torch, then find a great spot for it. All sorts of glass bottles are great for Tiki torches, so don't limit yourself!
Tiki Tree
Make a dazzling Tiki torch tree by sticking the poles into a pot or planter and extending them outward. This is a great way to get awesome ambient light without the torches getting in the way. Add some matching rocks and decorations in and around the pot, and you've got yourself a fancy little Tiki set!
Copper
This is a simple yet elegant design to incorporate Tiki torches into your backyard. The thin metal poles add a touch of sophistication while simultaneously bathing your backyard in a romantic and classy light. Make as many as you need to set whatever mood you're going for.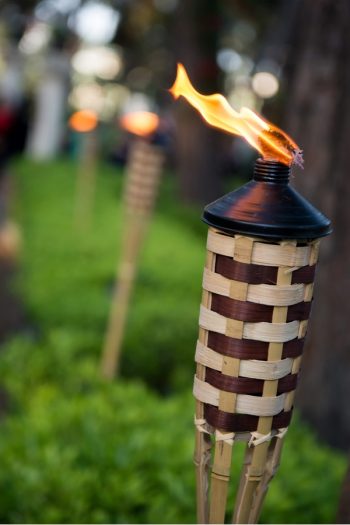 More Backyard Tiki Torches
Anchored
Instead of ramming Tiki poles into the ground and possible damaging both, anchor your Tiki torches in buckets or pots. Cement or a bag of small rocks will both do the job. This both protects the ground and makes your Tiki torches easily portable. Paint and decorate the buckets to include them in the theme of your party or backyard.
Lantern
Paint some old lanterns, stick them on a pole, and they become a unique set of Tiki torches! Either remove the lantern windows or keep them open.
Lightbulb
This idea may take some practice and patience, but it's a very cool design to add to your backyard. Clean up and empty the inside of a lightbulb, add your Tiki torch fluid and a fuse, and then seal it.  Voila, You've got a cool looking Tiki torch! It's small and fragile, so place it somewhere safe but that will still illuminate your yard.
Pot
Don't just have a pot filled with rocks, plants, or soil. Add some spice and put a Tiki torch in the middle of it! Obviously, this works better with rocks than other material, just pick a style you like and go for it.
Soda Can
This design takes quite a bit of craftiness and patience but is a great repurposing idea. These may be considered more lanterns than Tiki torches, but you can put them on poles or mix them with other Tiki torches to add a great accent of color and style to your backyard party.
TIKI Table Orb
If you don't want to make one, then buy one! The TIKI brand offers both tabletop Tiki lanterns and poles that you can stick around your yard. The great thing about this product is that the body glows in different colors while the flame dances on top.
Classic
If simple and classy is your style, then go with the classic Tiki torch design. Make your own or buy however many you need to set the mood for your backyard party. This type is great for bringing a relaxing and comfortable feel to your patio.
Before you go, check out some additional backyard lighting ideas. They're simply beautiful!