A great window box idea is the classic Christmas look. Simple green and red accents create a stunning holiday look.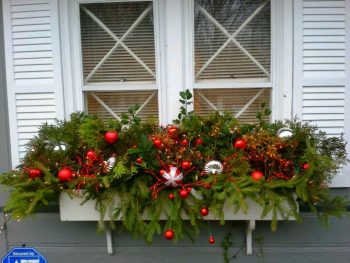 Decorating with ornaments in your window box is a great way to add an element of style. Pick a lighted garland with ornament accents. You could even decorate your windows with small wreaths!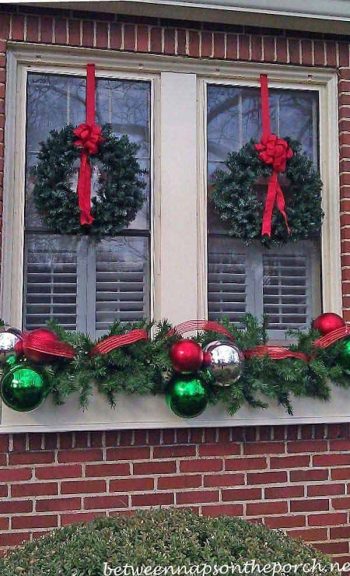 Ribbon is a terrific way to break up natural accents in your window boxes! Choose a color and material that really pops against the dark green in the pine cutting.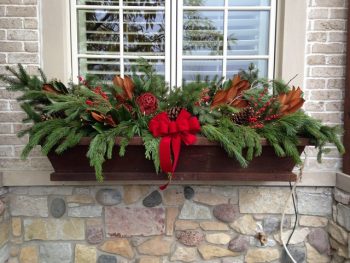 Wrap your window boxes in ribbon, to create the illusion of a gigantic wrapped present. Adorable!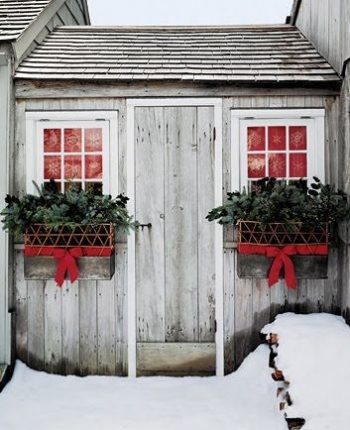 Complete the look and pair your window box with a gorgeous wreath. Hang them off to the sides of your windows, or perfectly center. Don't forget to add a hint of red!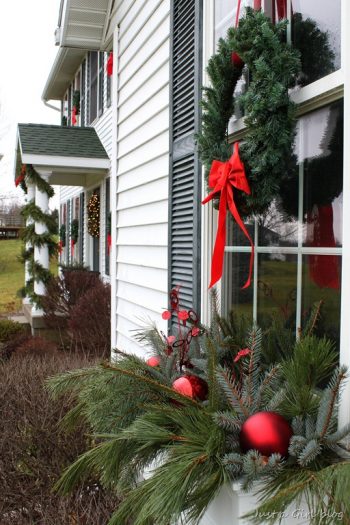 Snowflakes are a great winter decoration idea, that can be displayed even past Christmas. Decorate for New Years and beyond with large snowflakes and white ornaments.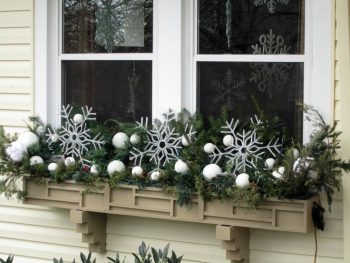 Go for a great rustic look by decorating with pine cones, orange ribbons, and pieces of burlap. It's adorable! Don't be afraid to mix up the greenery here,  pairing long grasses with pine needles, it looks lovely!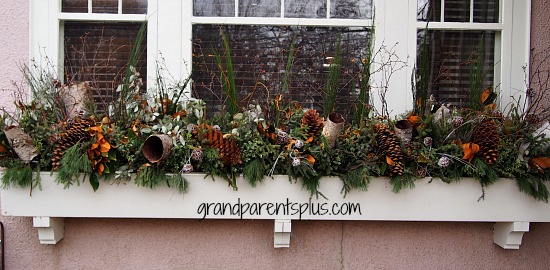 Use any leftover star decorations from interior, and decorate with them outside! Pair with statement ornaments to complete the look. It's a super easy decoration and looks absolutely fantastic!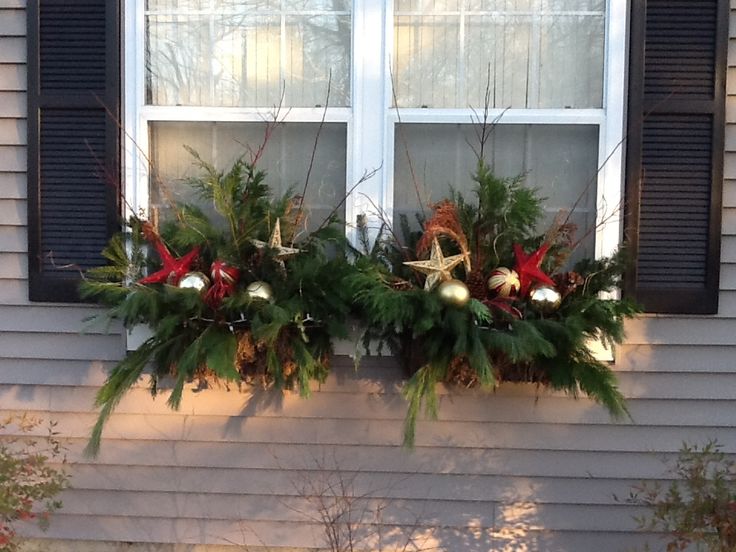 Holly berries are a classic Christmas decoration, so be sure to decorate with sprigs of them inside your windowbox. Take your love of red further and spray paint some twigs. They're a great compliment against the silver ornaments!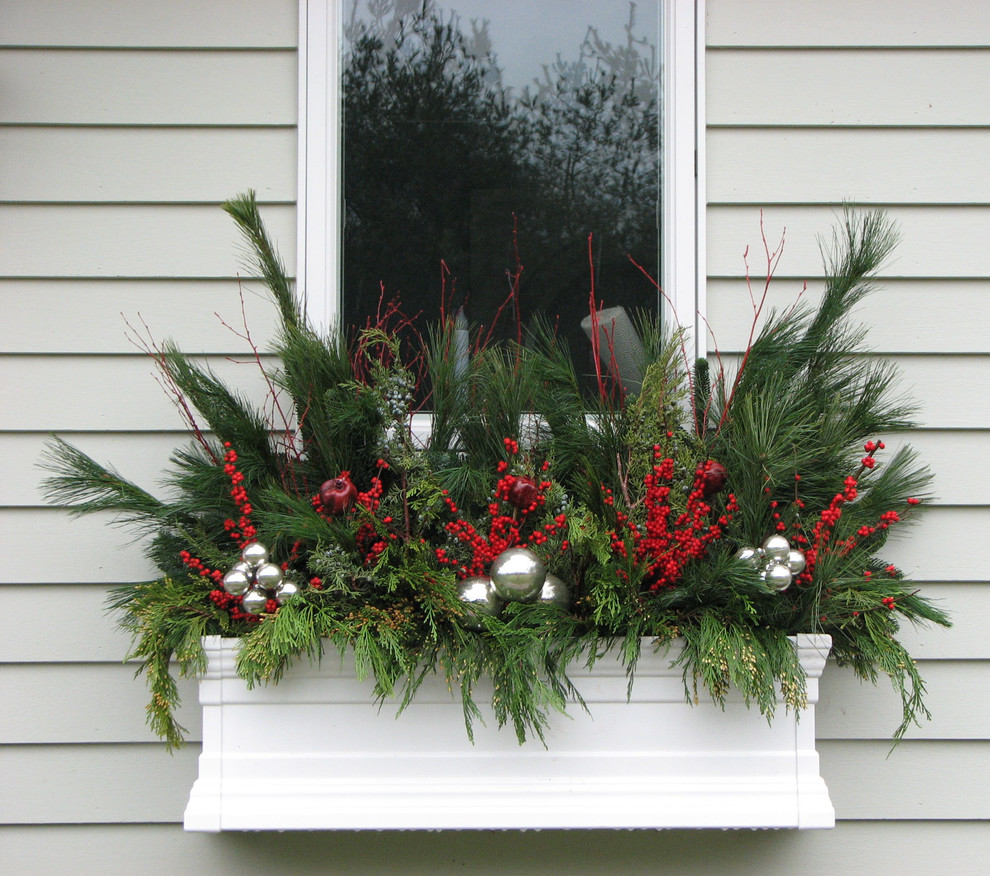 For another more rustic and natural look, add some pinecones into the box. They look great! For another DIY project, make these twine balls from Love Grows Wild. These will tie any Christmas themed window-box together.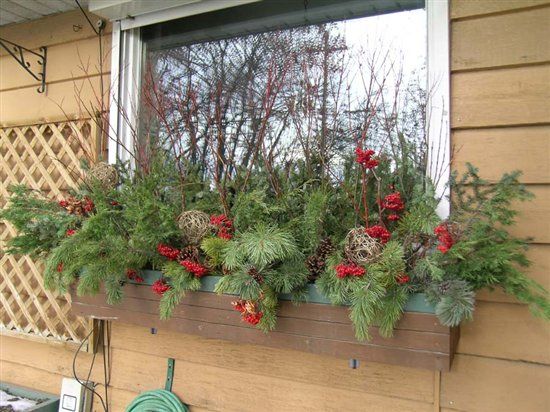 Stick a holiday themed sign in the window box for a fun and creative decoration idea! However, because the signs are more dramatic, it's best to keep the other window decor to a minimum!
If you just can't wait for the snow, then frost the greenery in your window box by yourself (use this to help you do it!)  This will really give your home a festive feel!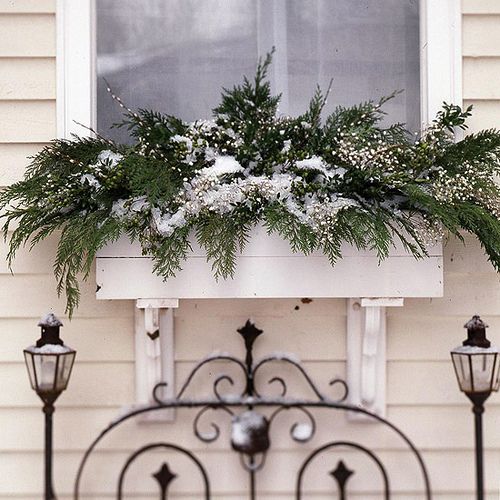 Add presents to the window box to make it incredibly Christmas-y! This pairs really well with pretty much anything else you put in there!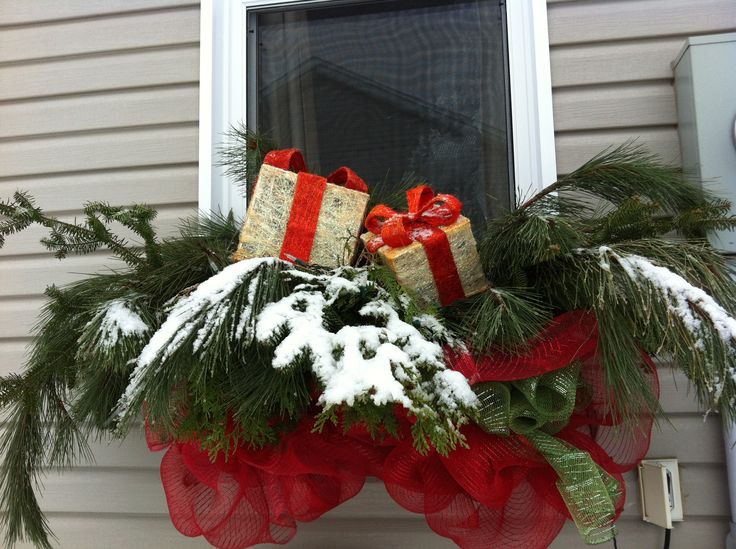 When you make up your window box, try making  it tall. You don't have to go for the traditional short decorations. Add branches and berries to make it lush and full! Plus, the added greenery will add any needed privacy.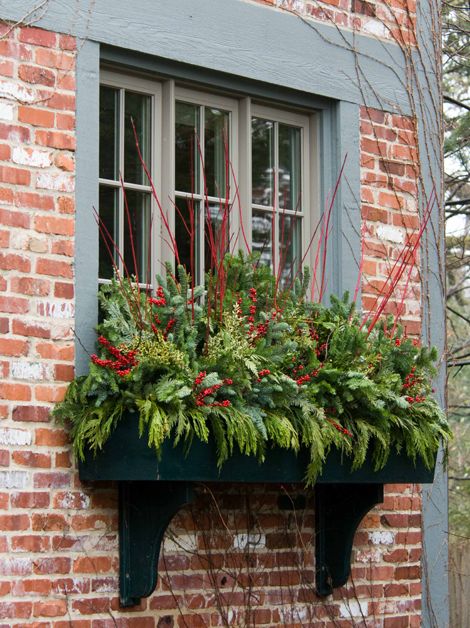 Hang bells (decorative or real) from the center of your box. These can go inside or outside of the box; whatever you like the most!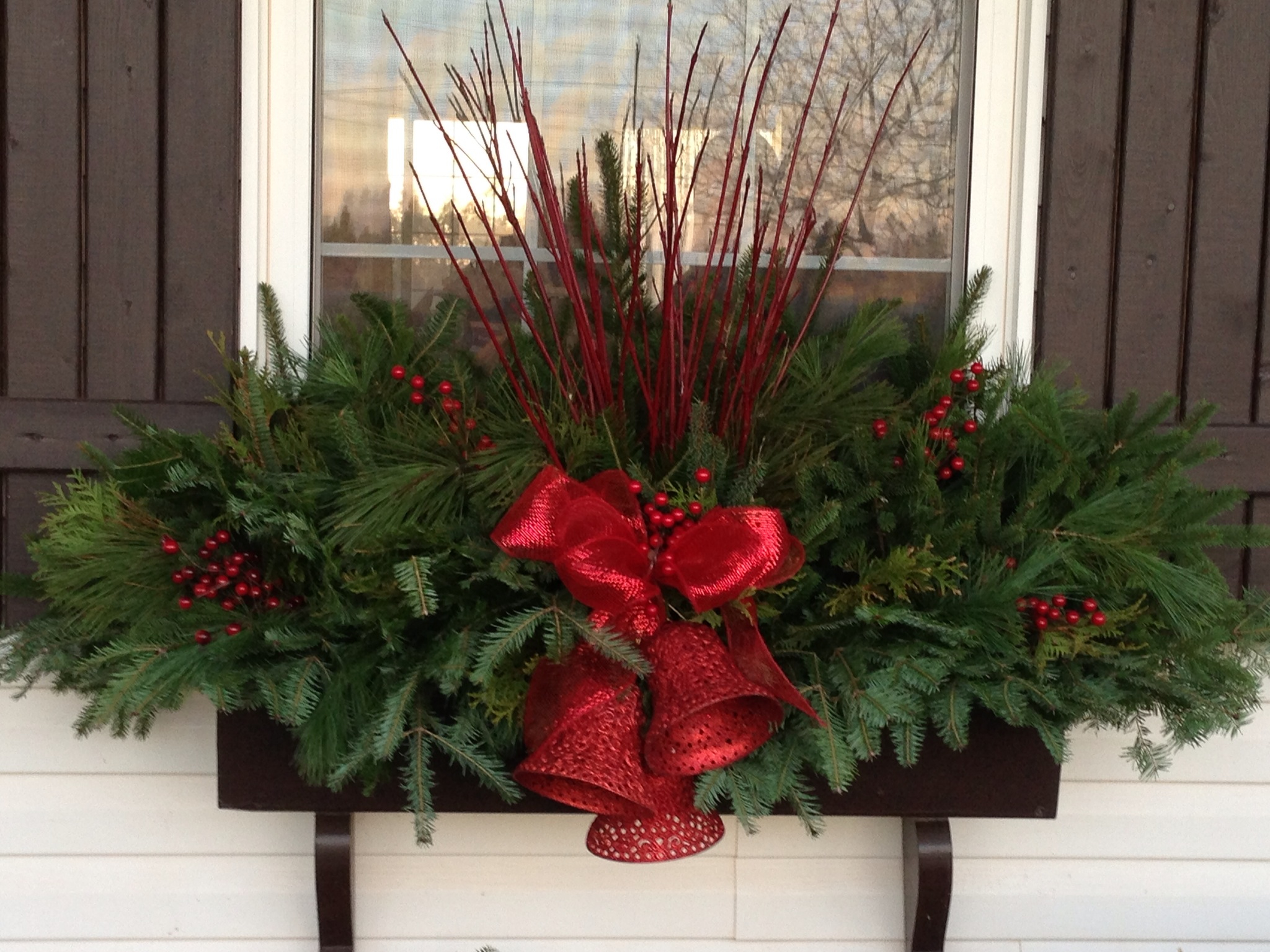 Add a little birdhouse (or any other unconventional decor pieces such as a tiny pair of ice skates, or even a mini sled) for decoration in the window box. Pair it with other rustic elements like burlap ribbon for a cute decoration!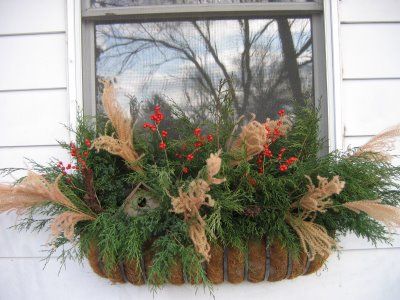 Make a fun Christmas scene in the window box. You can use reindeer, bells, or even Christmas trees made from tinsel. Either way, isn't this beautiful?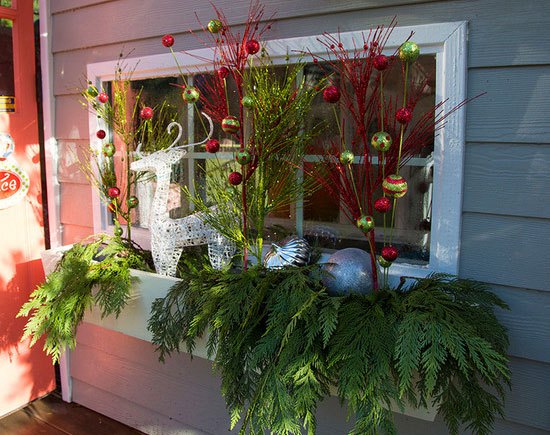 Add some lights to your window box greenery to really get a fantastic Christmas feel! On a side note. isn't this garland hanging from the roof to die for?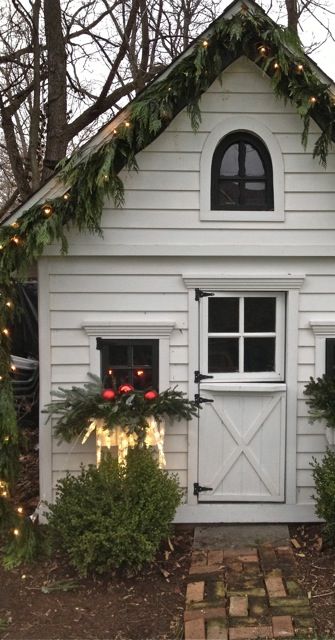 Nothing screams winter and Christmas quite like a snowman. If the weather permits, add them to your window boxes for an adorable accent. You could even entertain your kids by having you help create the mini snowmen!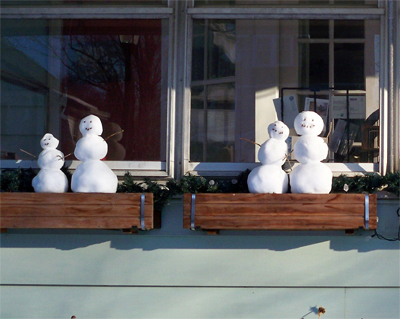 Combine a few different ideas together by putting lights in your window box and then hanging ornaments from the window. This is great if you have a smaller window box but still want something dramatic for the holidays.