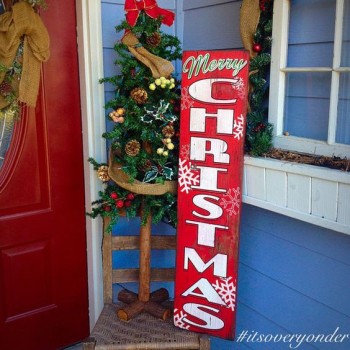 Make or buy a Christmas sign that you can put up on your yard or front porch. It can have a word, phrase, Christmas carol, or whatever else you want!
Put a garland over your front door to get a classic Christmas decoration! It can be a plain green one, or you can add some accents like berries, bows, and lights!
Reindeer are a classic Christmas decoration that look great outside! You can get mini reindeers made from wire, logs, or other material. You can also try for silhouettes or other styles!
Get an outdoor Christmas tree that you can put on your front porch for a nice touch of home for the outside! Add ornaments, lights, and maybe even some garland around the tree!
Cut up paper snowflakes and hang them from your porch to add a touch of Christmas, even before it snows! You can also get lighted ones that you stick into the ground of your front yard!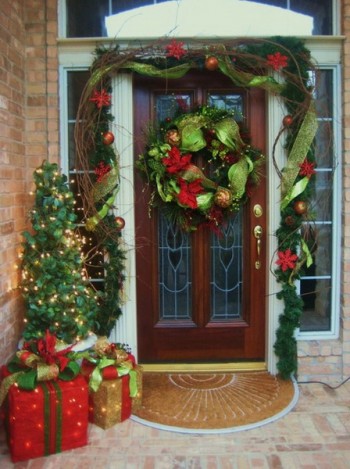 Take old boxes and wrap them up to look like presents! You can stick these on the porch or stick them under trees in your yard for the full effect!
Cut out stars from paper and hang them from your porch or put them on the side of the house! You can also get some wire, metal, or wood stars to put around the outside of the house!
Wrap some Christmas garland around any poles, post, pillars, or columns in your front yard! They look great and add a nice rustic Christmas feel!
Add some pops of red to any decorations you have to make them more festive! There are lots of greens and silvers for Christmas, so red is a fantastic color to add to it!
Make or buy a wreath that you can hang up on your door or somewhere else on the outside of your house! You can go for a classic green wreath or jazz it up with berries, twigs, pinecones, and lights!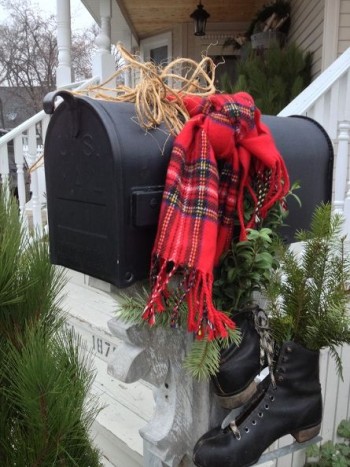 If you have a mailbox in your yard, then that's a perfect place to add some Christmas decorations! You can make it look like the north pole or just add some rustic decorations like skates, a sled, and other items.
Make a wreath out of old Christmas ornaments that you've glued together! The light reflecting off the ornaments is fantastic, plus it really brings the Christmas spirit!
Place nutcrackers on either side of your door for a fantastic Christmas decoration! You can choose whatever size works best, just stick them on the porch and they'll add instant festivities!
Put a sled or sleigh somewhere in the yard or porch for a great decoration idea! Not only does it look nice, but you and your family can use it if it snows!
I love lanterns, and they're especially fantastic during the Christmas season. Get some lanterns and put them around your yard, porch, or on the stairs for a nice outside decoration.
Turn your planter boxes below your window into ornament boxes! Instead of flowers, put colorful ornaments in them that will bring color to your home!
Add burlap to pretty much any decoration outside your home to make it look even better! You can wrap burlap around trees, around poles, or add it to your wreaths!
Make hanging lights out of Mason jars. They're absolutely fantastic and make your home look amazing. Plus, they add extra lighting for the Christmas season!
If your steps are big and wide enough, then put mini Christmas trees on each one. You can even put a letter on each vase to spell a word like "joy" or "peace!"
Hang lights from the trees in your yard to add to the Christmas spirit! You can wrap them like a Christmas tree, but for your yard! So clever!