Want to grow a beautiful garden, but have very little space? Container gardening might be right up your alley. There are plenty of gorgeous plants and flowers that do great in containers. There's no reason why you can't plant several of your own. Plant single flowers or mix different types of foliage to make things more interesting. Here are 22 ideas.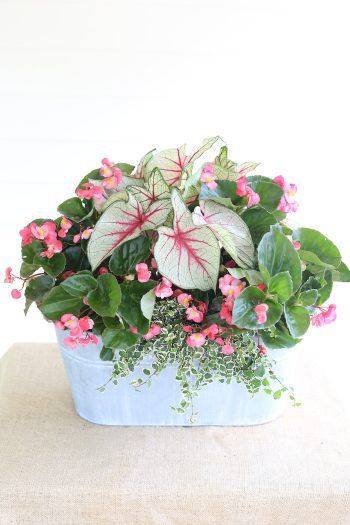 1. Cylamen
This beautiful flower does great in containers. Growing them is easy, and you'll get beautiful results!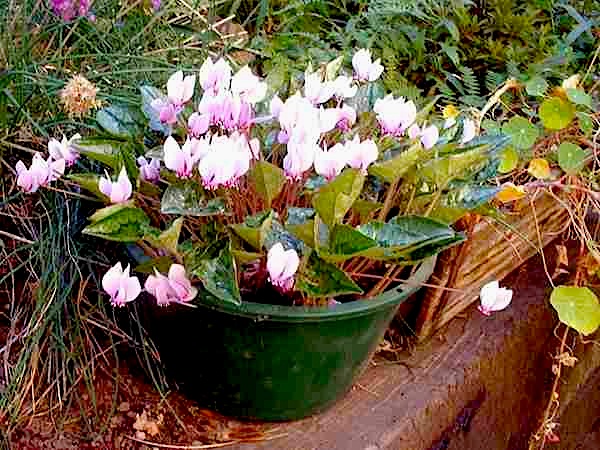 2. Hyacinth and Lemon Balm
These two plants complement each other perfectly, making a beautiful little container garden. Add some Fittonia if you like, for an even more robust look.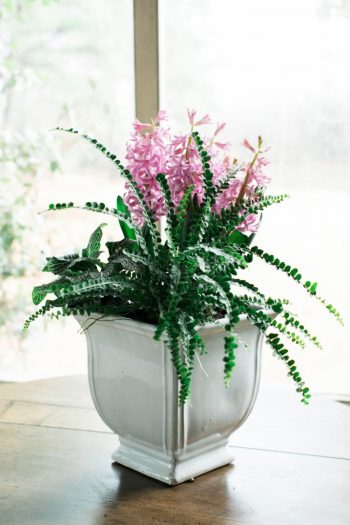 3. Japanese Bird Nest, Ivy, and Begonia
Put these together and you have vibrant green and bright yellow. Whatever container you choose, you're sure to get compliments.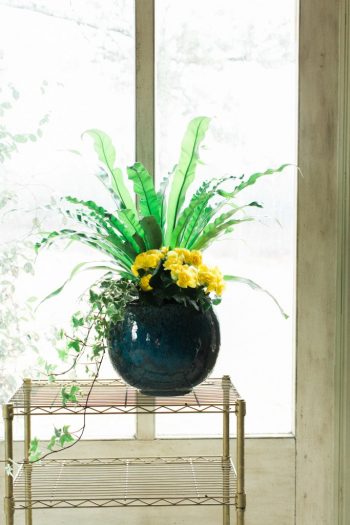 4. Sedum and Snowball
Vera Jameson sedum looks beautiful with Mexican snowballs and more. Don't be afraid to mix succulents with other water-wise container plants. Gorgeous!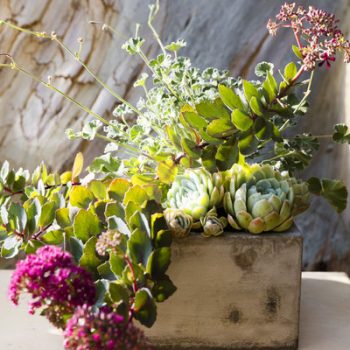 5. Go Tropical
Tropical plants and flowers bring island flair to any container garden. Here is tropical blood banana, mixed with scaevola and trailing geranium.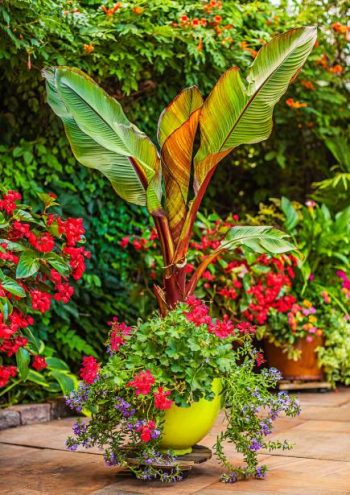 6. Lush Grasses
Who says you can't plant ornamental grasses in pots? Sure you can! Try planting them in the center, and you can change out surrounding flowers when they stop blooming.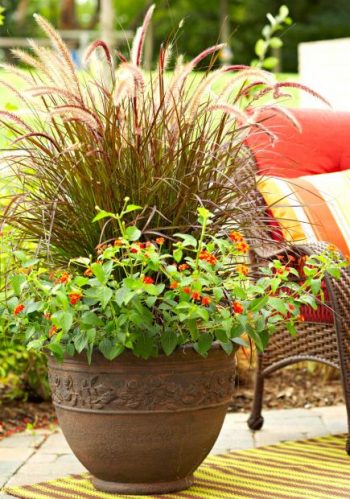 7. Try Some Ferns
This Ruffle Fern looks beautiful in any kind of container. Bold or traditional — it's your choice.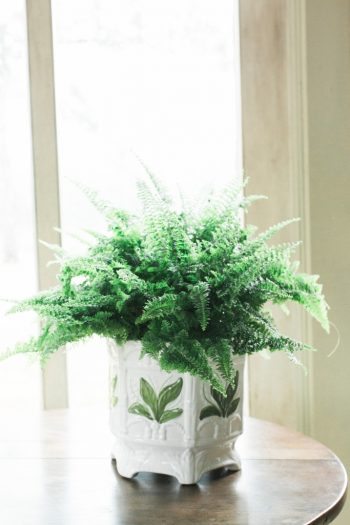 8. Feeling Impatient?
Impatients love container gardens, and they look extra pretty when you hang them.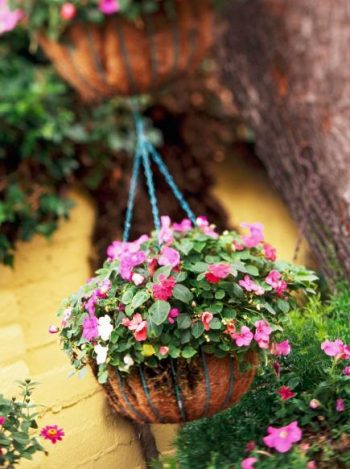 9. Candy Mountain Sunflowers
This hybrid flower is a great choice for containers. With these babies, you get more than your standard yellow.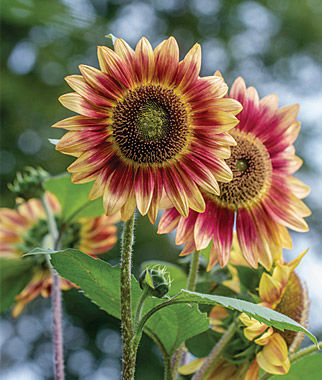 10. Queen Red Lime Zinnia
Have you ever seen a prettier combination of colors? These can grow up to 40 inches tall, so if you have pots on your porch, they can make a statement.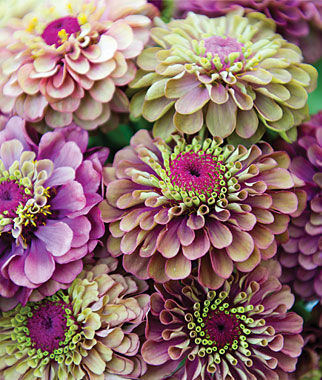 11. Good Things Come in Threes
These three plants: goat's beard, lemon suberbell, and sweet potato vine, make an interesting combination that looks amazing on a porch or deck.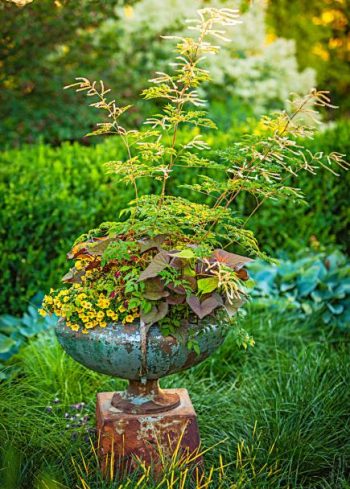 12. All-Green and Loving It
Foxtail fern, ivy, and Japanese Birds Nest create this beautiful indoor garden.
13. Pretty in Pink
Lemon butter fern, tulips, and begonias combine for an all-pink display with very different types of foliage.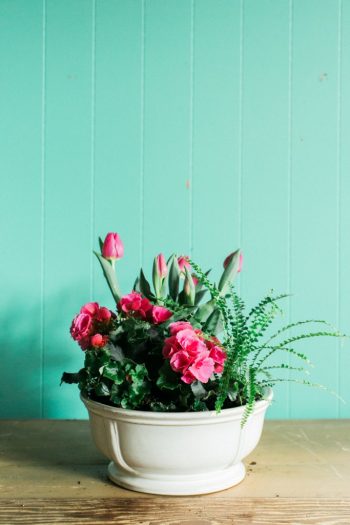 14. The Purple Wave
Love purple? You can't go wrong with purple wave petunias. They'll do well with other plants in containers, and can even be used as a ground cover.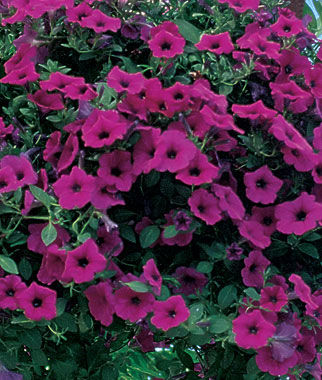 15. Flowerless Beauty
You don't have to plant flowers to get color. In this garden, Big Red Judy coleus provides the striking burgundy foliage.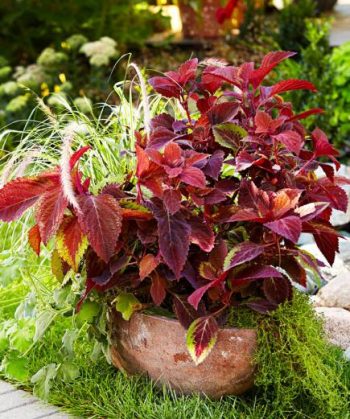 16. Morning Glory
If you love morning glory but don't want it to spread, why not use a container? These can be beautiful in hanging baskets.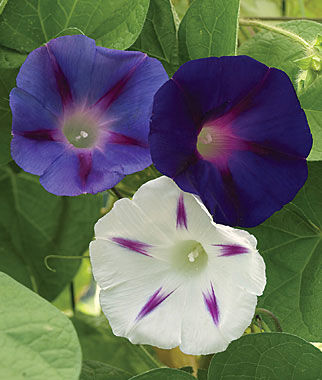 17. Go Big or Go Home
If you have a large container, why not go all the way? Forsythia looks gorgeous in this tall pot, along with some hyacinth.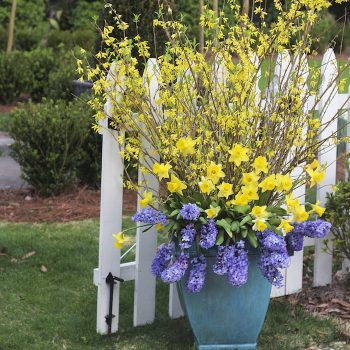 18. Raspberry Lemonade
Raspberry lemonade zinnia mix is gorgeous, as well as disease and drought tolerant.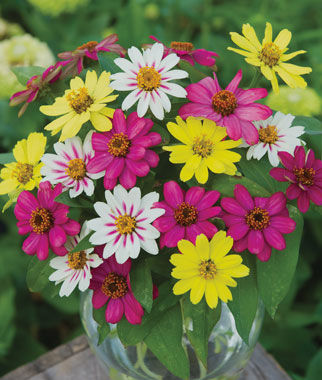 19. It's Divine
Just because you're using containers doesn't mean you can't plant vines. Give them something to climb, and you've got height and beauty you'll love all summer.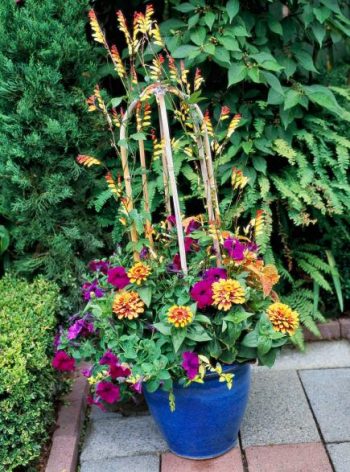 20. Super Succulents
Why not create an all-succulent garden? Bon bon sedum and Angelina go like a dream with hens and chicks (really! It's a plant!) in this clay pot.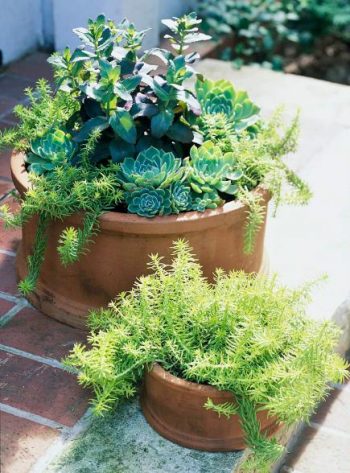 21. Lisianthus Pink Bouquet
Not just a bouquet…a container full. These large blooms make a statement in any container. Use a contrasting color and make it extra bold. These make great cut flowers as well.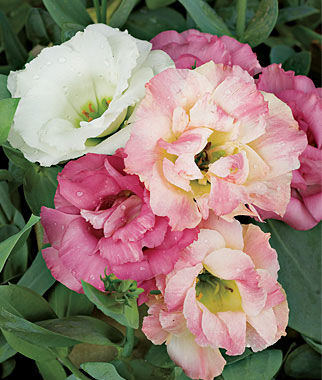 22. Triple Threat
Lemon ball sedum, tricolor sedum, and Joey combine in this sun-loving, understated garden.