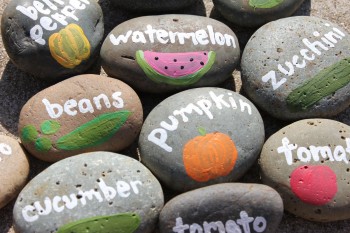 Use stones as labels for your garden so that you know where everything is! You don't need to go out and buy fancy labels, just make your own.
Use toilet paper to make your very own seed tape. It makes planting seeds so much easier and doesn't cost you nearly as much money!
Test old seeds before you buy new ones. Just put the seeds on a wet paper towel and if they begin to sprout then they're still good and you can plant the rest in your garden!
A great way to get new seeds without having to go out and buy new plants is just trading with your friends and neighbors! Host a trading party where everyone can get together and swap plants.
If you have pests in your yard, there's no need to go out and buy expensive chemicals. Instead, just put plastic forks in the ground and it will help repel pests away!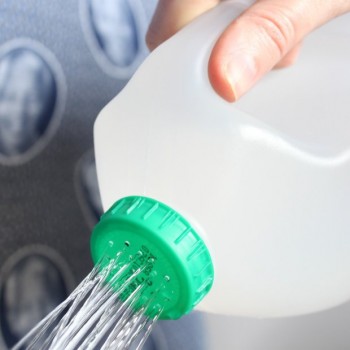 Turn an empty milk jug into a watering can! Just poke a few holes in the lid, fill it with water, and you're good to go!
Start seeds in a lemon rind to help get them started! Just put a bit of soil in the rind, plant the seed, and let it start.
You can also do that in an egg shell! Just fill it with soil and it will begin to start. The shell helps give extra nutrients.
Start making your own compost pile that will save you tons of money. Instead of throwing away food, just turn the scraps into homemade fertilizer.
Put a diaper in the bottom of a planter and it will help you save on money! The water will absorb into the diaper, making it retain more and you have to use less.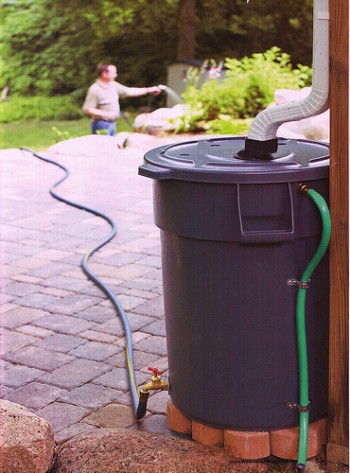 Make your very own rain barrel that you can use to save money on water costs. It doesn't take too long to build and it's a super useful addition to any garden.
Put some foam peanuts in the bottom of any planters or pots that you have. Not only does it make them lighter, but you also use up less soil, which saves you money!
Instead of buying a bunch of expensive weed killer, first try using vinegar to take care of the weeds. Just spray it on the weeds a few times a day and they should go away.
Turn an old 2-liter bottle into a homemade sprinkler! You just attach the hose to the end, make sure it's on there tightly, and then poke some holes in the bottle. The pressure will spray water out!
You can also use old bottles to make a mini greenhouse. Just put the water bottle over a plant that you're trying to take care of and it will help it out!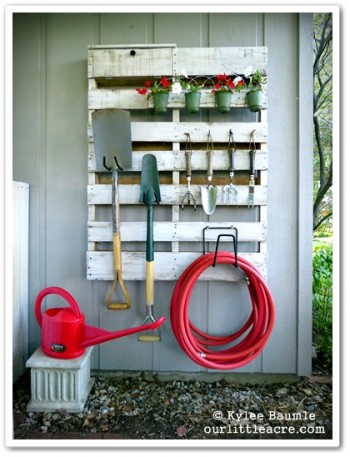 Turn an old garden pallet into a gorgeous tool organize! Just hung it up on a wall and add hooks and other attachments so you can hang up tools.
Take an over the door shoe organizer and use it to make a vertical garden if you lack the space you need. Just fill the pockets with soil and some plants and you're good.
Before you go into summer gardening, you should plan your garden layout a few months in advance. This will both save you time when it comes time to garden, but you will also save money as you buy things at their best price.
Put coffee filters in the bottom of planters and pots to help the water drain out without the soil also getting swept away. It will save on buying soil and also keep things cleaner.
Don't go out and buy a bunch of expensive mulch. Instead, make your own with shredded paper and newspaper. It's way better and saves you tons of money.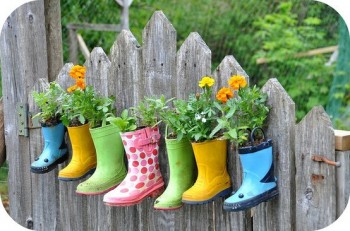 Use random items around your home as plant containers. Instead of buying new pots, use a colorful shoe or an old watering pail.
Take the water you used to cook your vegetables and water your plants with it. The nutrients from the veggies will help make your plants stronger and healthier.
Buy perennials so that they come back every year instead of having to buy new plants every year—it adds up! They require a bit more care, but it's definitely worth it to save money.
If you have some tomatoes that are a little too bitter for your taste, no need to cut them out and start all over. Just add baking soda to the soil around the plant and it should make them much sweeter!
Take some PVC pipe that you have lying around and use it to make any and all sorts of trellises, greenhouse structures, hoop houses, and so much more!