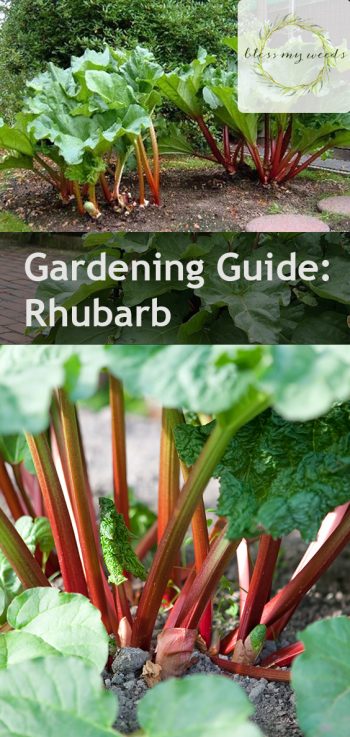 Plant Care Basics

Grow Zone Recommendation: Growing rhubarb plants is easy to do as a perennial vegetable, in USDA zones 2 to 9.
Sunlight Needs: Rhubarb requires plenty of sunshine to thrive, as most of your other vegetable gardening.
Watering Needs: Water your rhubarb plants well until established, but don't let them sit in water. At that point, regular watering is sufficient to keep soil slightly moist. Be sure to water your rhubarb during dry weather, as it won't tolerate drought.
Average Size: Rhubarb is a large plant, growing 1 to 3 feet in height and 1 to 4 feed in width.
Foliage Color: The foliage is an emerald green with edible stalks of pink or red.
Must Know Plant Care Tips: Rhubarb requires well-drained soil but does need regular watering. When planting, space rows 2 to 3 feet apart, with individual plants 1 to 2 feet apart. Each plant will use about 1 square yard of garden space. Don't plant them deep — just 1 or 2 inches below the soil. When flower stalks appear, remove them as soon as possible as they tend to rob the rest of the plant of required nutrients. Avoid harvesting rhubarb during its first year; this will allow the plant maximum growth. Starting with the second year, harvest young leaves once they expand outward but grasping the stalk and pulling or cutting them off. Thereafter, you can harvest stalks of about 1 inch in diameter for up to 2 months.
Plant Problem Solver: Cool temperatures are great for rhubarb. Plant it where the temperature will drop below 40 degrees F over the winter. Summer temperatures of 75 F or lower will allow it to thrive into your harvest. If you want a perennial vegetable that comes back year after year with little trouble, rhubarb is a great choice. It may be best planted along garden edges, so its size doesn't interfere with other vegetables in the spring. Divide your rhubarb plants every 6 to 8 years, when the stalks start to grow thinner due to crowding.
Pretty Pairings: Great companions for rhubarb include garlic, onions, kale, cabbage, broccoli, and turnips.