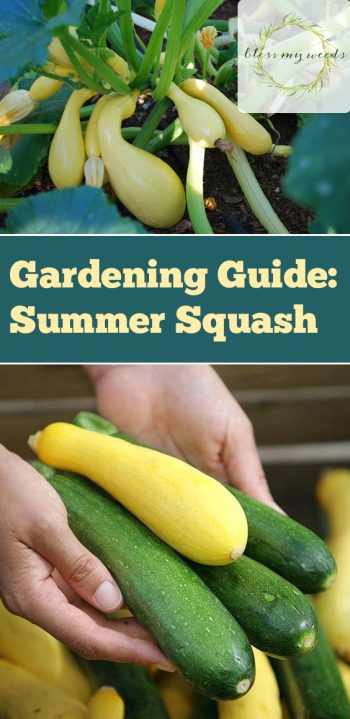 Plant Care Basics

Grow Zone Recommendation: Growing summer squash is possible in many USDA zones. You can likely grow it where you are, depending on the variety.
Sunlight Needs: Like most vegetable gardening, summer squash requires full sun to thrive.
Watering Needs: Steady moisture is required, with frequent watering during hot and dry periods.
Average Size: Plants grow from 1 to 3 feet tall and 3 to 10 feet wide, depending on variety and growing conditions. Squash will grow to very large sizes if allowed, but the best flavor and texture result when harvested at around 6 inches in length.
Foliage Color: You'll notice deep green foliage with large leaves, and a harvest of primarily yellow and green. Yellow flowers appear before vegetable growth begins.
Must Know Plant Care Tips: Your squash will grow quickly in warm temperatures, so check them daily for grown so they don't get too big. The more often you harvest your squash, the more you're likely to get from your plants. It likes fertile, loamy soil that is well-drained. Mulch is beneficial to keep soil moist and regulate temperature so you plants don't overheat. Organic matter will help growth when worked into the soil at the time of planting. Soil pH of 5.5 to 7.5 is best, with 6 to 6.7 being optimal. Under these conditions, you're likely to start seeing an abundant harvest in about 7 weeks. You can pollinate female flowers by hand by using a small paintbrush to transfer pollen from the male flowers.
Plant Problem Solver: Squash can be very prolific producers, so you are likely to need just one or two plants to give you a good harvest. Squash can be grown well in containers, especially bush varieties. Use a 5 gallon or larger container for 1 or 2 zucchini plants. Watch for cucumber beetles, squash bugs, and vine borers. Powdery mildew and bacterial wilt may also be a problem, so keep your garden clean and remove and destroy any affected leaves.
Pretty Pairings: Good companions for summer squash include peas, corn, beans, and radishes. Marigolds can help repel insects when planted nearby, as can peppermint, dill, lemon balm, parsley, oregano, and marjoram.