Nothing says summer like sweet bell peppers. On a salad, on the grill, or just sliced up and dipped — they're a delicious part of the warmer weather. Even if you don't have garden space, you can grow prolific peppers by planting them in pots (say that 5 times fast!). It's easy! Here's how:
1. Things to Know
Growing peppers in pots is pretty simple. You'll just need some large pots with drainage holes, and good quality garden soil with a neutral to slightly acidic pH. Soil should be loose and fertile. Choose pots with at least 10-12 inches in depth and width. This size should be able to accommodate 2-3 smaller-variety pepper plants. If you're in a tropical zone, don't use a black or very dark-colored pot, as they could get too hot.
In the tropics, you can grow bell peppers as short-lived perennials, but in colder regions, plant them annually. They're a warm-weather crop that loves the heat.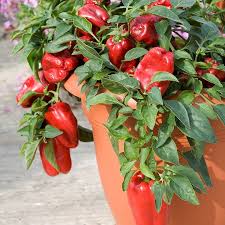 2. Grow & Propagate
Once you have seed, you can make your own seed starting mix or buy some at a local nursery. Start your peppers 6-10 weeks before your last expected frost date in small pots or a seedling tray. Plant 2 seeds, 2-3 centimeters deep, in each pot. If you're in a sub tropical or tropical climate, you can start them anytime except in the highest summer heat.
In 1-3 weeks, you'll see seeds germinate. When you have seedlings, thin them out to keep the single best-looking plant in each little pot. When they have 2 healthy leaves on them, they're ready to transplant into your big containers.
Add organic matter to the soil, such as compost or manure, and 5-10 gm neem cake when preparing to transplant.

3. Ongoing Care
When your plants are established, they'll need basic care. Keep your pots in a sunny place where they'll receive at least 6 hours of summer sun each day, and protect them from strong winds that could damage the plants. Your plants will need regular watering and slightly moist soil at all times. Mulch can be used for water retention. However, avoid wetting the leaves with overhead watering — go as directly into the soil as you can. Just be sure you aren't watering so much that your plants are sitting in water.
Your plants will grow best at soil temperatures above 60 F. For germination, higher than 68 is optimum. Ideal growing temperature is between 70-90 degrees. Fertilizer should be applied every couple of weeks — tomato fertilizer works well.