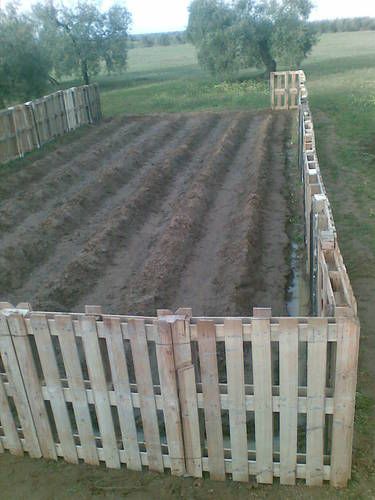 You can make a wood pallet fence for your garden, for a property boundary, or really for anything you need! This is a simple and cost effective project to make.
To get started, use a sledge hammer to pound some 4×4 wood posts into the ground. Make sure the posts are measured apart so that a wood pallet can slip over the top and slide down to ground. Each wood pallet section has two 4×4 wood posts inside that will provide stable support.
You don't have to disassemble the wood pallet. To make the fence, just make sure you collect a large number of pallets that will cover the distance you need them to.
It is also an option to have your fence one or two wood pallets high, depending on the length of your 4×4 wood posts.
Here are some great examples of other DIY pallet fences. These pictures show that pallet fences can be made in all different types of colors, heights, and styles. Although the framework is the same, it can be customized however you would like.