Just because it's winter doesn't mean your front porch planters can't be showstoppers! Winter definitely has its own kind of beauty, you just need to know how to take advantage of it. Here are some ideas to help you make gorgeous front porch winter planters.
Front Porch Winter Planters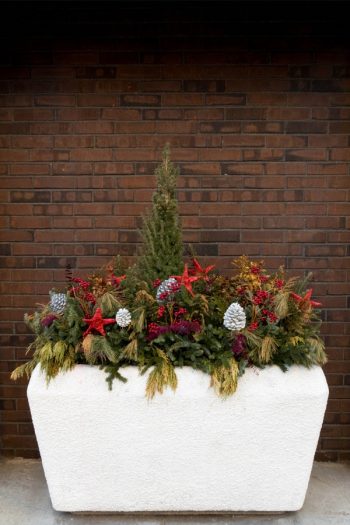 Tips for Winter Planters
Use a combination of living plants and natural materials. Both are prevalent during the winter, and both are necessary to a gorgeous winter planter. Natural materials include things like twigs, sticks, pine cones and berries.
Start by choosing the planter that fits the space. Some people have a vision of a certain winter planter in mind, and then get discouraged when it doesn't fit. Start with the planter, and then develop a vision of what you want it to look like.
Fill your planters with planting mix–not potting soil. Potting soil tends to be too lightweight to support a heavier winter planter of evergreens, sticks, and other natural items.
Plant living plants in your planters first. They from the back drop of a winter planter.
Next comes the natural materials you choose to use. Twigs and branches come first, followed by pine cones and berries.
Be sure to plant everything deep enough into the planting mix that they are secure. Those winter winds can be fierce!
Once your planters have a good mix of living and natural elements, add any festive holiday embellishments you wish.
Don't be afraid of the snow! If you get snowfall in your area, take it into account when you design your planters so that any snowfall will just enhance their beauty.

Types of Living Plants for a Winter Planter
Sage and Thyme
Creeping Jenny
Wormwood
Ornamental grasses–look for evergreen types
Sedum
Mini evergreen trees or shrubs
Yucca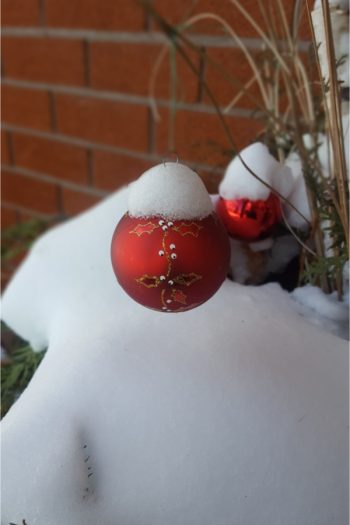 Don't be afraid to use ornaments in your winter planter. LED fairy lights are also a fun and festive addition to a winter planter. They really make it pop!