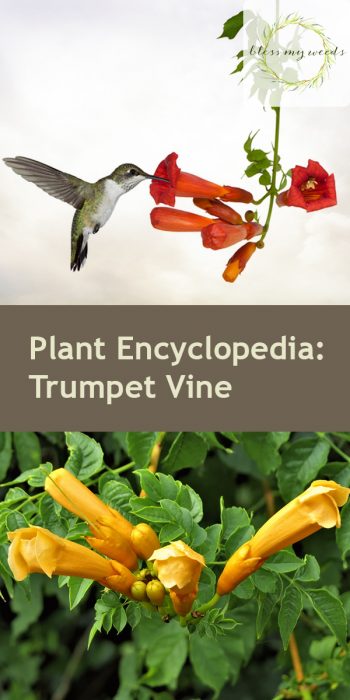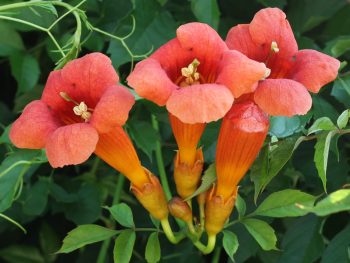 Campsis radicans, or Trumpet Vine, is a fast-growing perennial. It blooms through summer into Fall, and is an excellent choice for USDA zones 4 to 9.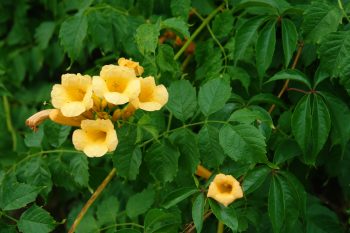 Sunlight Needs: Trumpet Vines thrive in either full sun or part shade.
Watering Needs: Once it is established, Trumpet Vines don't require much care, and that goes for watering, too. Water only as needed, and you never need to fertilize.
Average Size: The Trumpet Vine is extremely hardy and will grow as much as 30 to 40 feet per season! However, you must keep an eye on it so that it doesn't take over the surrounding landscape.
Foliage Color: The foliage of established Trumpet Vines are a lovely shade of emerald green. Newer growth is temporarily a lighter shade of lime green. The trumpet-like flowers are most commonly seen in a bright shade of orange-red. The plant is also available with sunny yellow or bright pink flowers.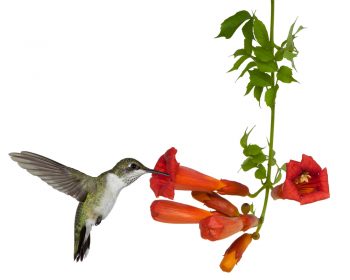 Must Know Plant Care Tips: As mentioned, Trumpet Vine will easily take over your landscape if it gets the chance. If you do want it to be part of your landscape design, you must plan to prune it regularly to combat the lively growth it will experience each year.
Plant Problem Solver: Trumpet Vine not only creeps above ground, but its roots do, too. Trumpet Vine roots have been known to cause damage to home foundations. The vines themselves will creep underneath the shingles of your roof if they reach it. To combat this problem, do not plant Trumpet Vine too close to your home. For the best enjoyment, plant it out away in your yard nowhere near the house.
Pretty Pairings: Trumpet Vine must have an arbor or other structure to climb, and this is the best pairing you can offer this hardy plant. It also attracts hummingbirds, so plan to enjoy the show!