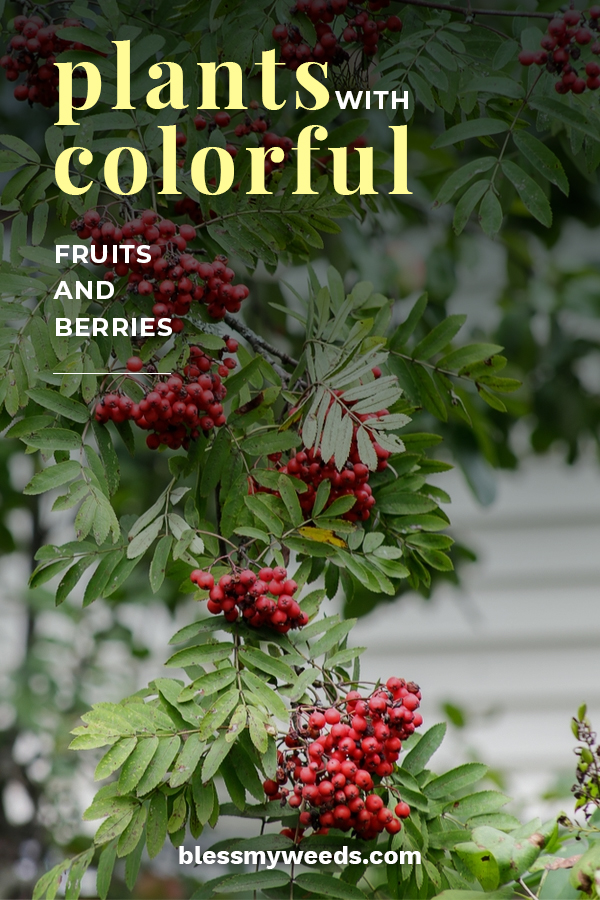 When you want to add extra beauty and interest to your garden, plants with colorful fruits and berries are standouts. They have a way of bringing that extra little oomph you're looking for, in a way that regular plants and flowers can't. Don't get me wrong, all plants and flowers are beautiful, but plants with colorful fruits and berries deserve some extra attention. Today, that's what they're going to get!
Plants With Colorful Fruits And Berries
The following plants are those that feature showy fruits and berries, in a wide variety of sizes and colors. Some of these plants have flowers that don't stand out as anything special–and then the plant surprises you with a burst of colorful fruits and berries when you least expect it. Others of these plants feature the berries first, and then put on an equally pretty display of flowers.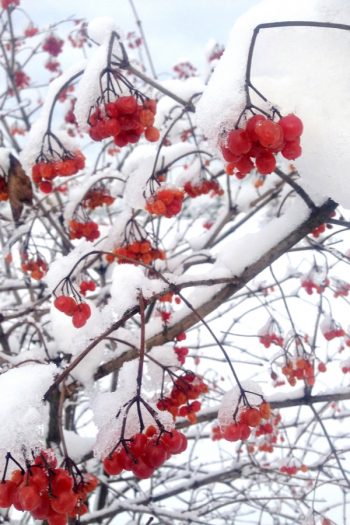 The wonderful thing about the Red Viburnum tree is its bright and juicy red berries that show up during the snowy season. Such a pretty display is especially welcome during the cold, gray winter. What a beautiful picture to see when you look out your window! Check out my February gardening tips to brighten up your winter.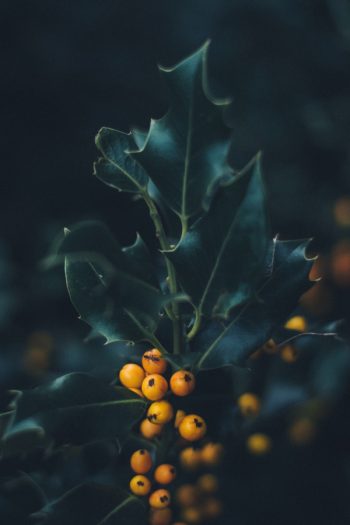 You may know this as a Holly plant because the leaves are fairly recognizable. But you may not realize how many varieties of the Holly there are. There are in fact 18 different species of Holly, with different colors of berries and variations in leaf shape. The Holly most recognized as synonymous with Christmas is the English Holly with red berries, but English Holly comes in an Apricot Glow variety that features these golden berries. In Hawaii there is a tropical version of the Holly plant with deep purple-black berries.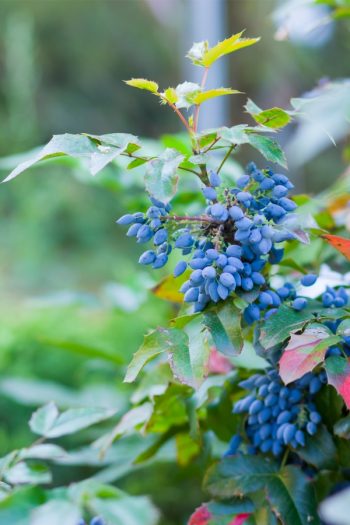 If you want to feature a plant with colorful blue berries, there is one to love. This is Mahonia aquifolium, or Oregon Grape bush. Oregon grape is an evergreen shrub that produces compact yellow flowers in the spring, and then these pretty bluish-black berries. The state of Oregon adopted this plant as its official state flower back in 1899.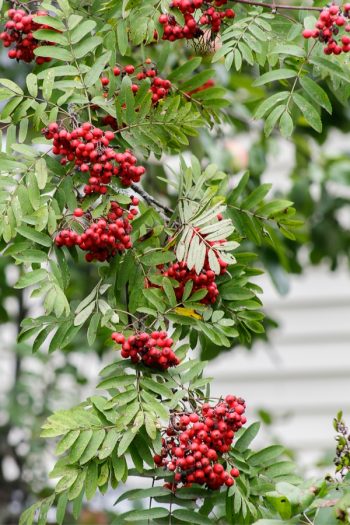 The Rowan, or Mountain Ash, is a tree or shrub known for its beautiful dense clusters of bright red berries. Rowan berries are very sour, but they are edible and rich in vitamin C. They are native to temperate regions throughout the Northern Hemisphere, especially in the United Kingdom. And according to Norse mythology, the first woman was created from a Rowan tree!
Other popular plants with colorful fruits and berries include Hawthorn, Flowering Crabapple and Cornelian Cherry. Do you have a favorite? Please share in the comments!