Bees are essential. Without these busy little pollinators, we wouldn't be able to grow our own food or harvest the sweet honey they produce. However, when they come buzzing around our backyard barbecue or even inside your home, they can be a real nuisance…even harmful. Thankfully, there are many ways to get them — especially the harmful ones — to buzz off without getting hurt yourself.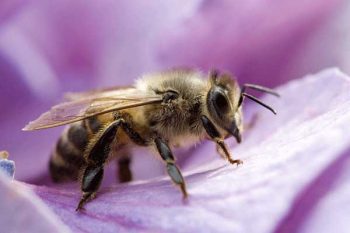 1. Know What You're Dealing With
Do you have bumble bees? Honey bees? Carpenter bees? Or, do you have the more harmful wasps buzzing around? If you know what kind of bees you have in your yard, you'll know better how to deal with them safely.
Bumble bees are only aggressive when threatened. They nest in fluffy or loose areas, and sometimes underground.
Honey bees are usually non-aggressive. As the name implies, honey bees produce honey in their heavy nests, where thousands of workers may live.
Carpenter bees can burrow in to a surface, leaving holes of about 3/8″. They keep mostly to themselves and rarely damage heavy, structural beams, but can destroy surrounding wood.
Wasps are definitely more aggressive. The wasp family includes hornets, yellow jackets, and ground bees. All are easily agitated.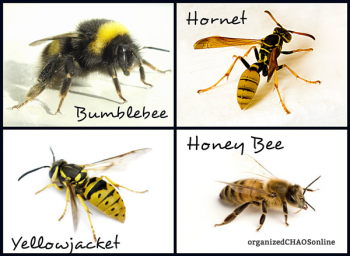 2. Stay Away During the Day
Bees love to nest in hollow spaces often found in human structures. Bees are active during the day, so whether your problem infestation is in your home, yard, or car, it's best to deal with it after dark.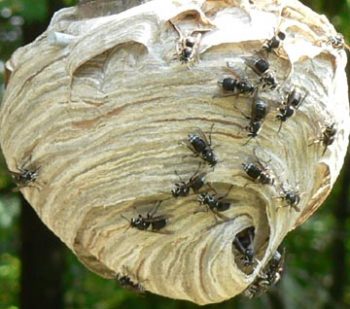 3. From Your Home
If you have wasps or hornets nesting in or on your home, how you deal with it will depend on the location of the hive. If the hive is exposed, wear thick, protective clothing and use a spray, following the directions closely. Watch the hive or next at dawn and dusk the following day, and if you still see activity, you may need to spray again. After you know it's safe, you should remove the hive. If the hive is inside your walls, professional help is recommended. Never plug up entry holes, as they'll see another point of entry or exit, possibly into your living space.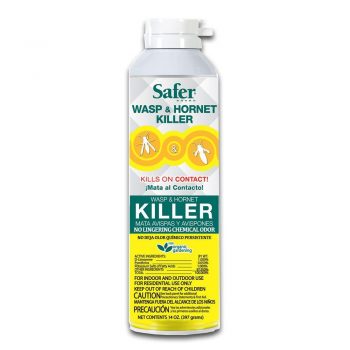 4. In the Ground
For bees in the ground, you'll need a specific type of spray for ground bees. These bees are a type of yellow jacket and can be aggressive, so dress accordingly and work after dark. Simply aim the spray into the hole(s), then keep an eye out at dawn and dusk over the next couple of days. If you see more activity, repeat the process. Never use harmful or flammable substances like gasoline or other chemicals. You will likely end up poisoning other plants and animals, and create a fire hazard.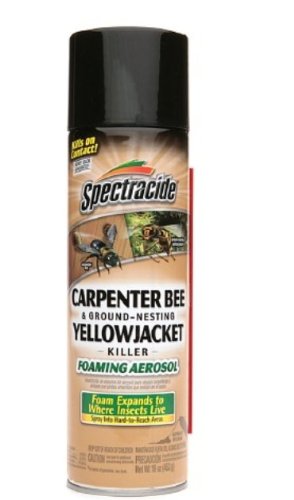 5. In Your Car
If you have a hive in your car, the safest thing to do is to hire an expert to remove it. Driving around with a hive under the hood can agitate wasps or hornets, leading to dangerous stings. If you go it alone, some types of sprays, such as Raid, can eliminate the bees with repeated use. But always wear protective clothing, and always go in at night.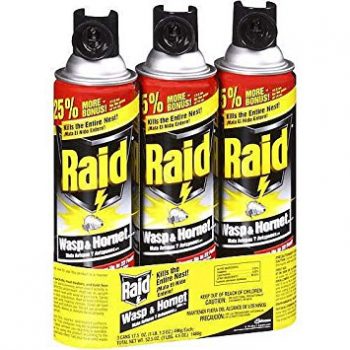 6. Always Remove the Hive or Nest
Once the bees are gone, you can eliminate the mess of decaying larvae and help prevent new infestations by removing the abandoned nest or hive. For beehives, once the hive is empty, you can simply knock it down and clean up the mess. Be sure to remove any wax from walls or other surfaces, as any melting will surely cause damage. In walls, you might need to cut a hole and break the comb apart, removing it in pieces.
For wasp, hornet, or yellow jacket nests, the procedure is a bit different. You must be completely sure that the colony is gone. Still, wearing protective clothing is advisable in case you run into any survivors. Empty hives must be taken down and destroyed. For ground nests, you can actually just pack the entrance points with dirt. In walls, vacuum out the dead insects and caulk any openings to prevent further infestations.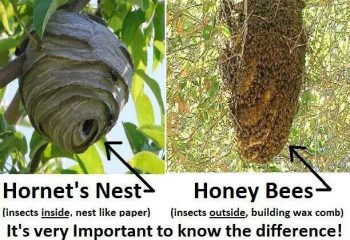 7. Natural Methods
If you would rather use natural methods to remove bees, there are plenty of alternatives. If you catch the problem before an all-out infestation, bee lures, traps, and natural repellents can be helpful in getting them to move on their own. Fake wasp nests can prevent territorial wasps from moving in. There are also natural pesticides available that are safer for you. You can also hire a professional who specializes in relocating hives without harming the bees. Calling in a professional is definitely the best thing to do when dealing with honey bees, because what would we do without our pollanators?