We all love being outside when the weather is great and the sun is shining. However, when it comes to cooking for parties and other gatherings, having a small window in front of the oven just doesn't cut it. Get yourself an outdoor kitchen and soak in the rays while you grill, chop, cook, and barbecue to your heart's content. Here are some great outdoor kitchen ideas to get you started!

Open Air
A simple kitchen that sits out openly on the back deck is an easy option if you love feeling the heat from both the sun and the grill on your face! This kitchen allows you to enjoy the great summer weather while simultaneously getting all your cooking done. Make sure the material is weather and rain proof, however, or your perfect kitchen can easily get destroyed.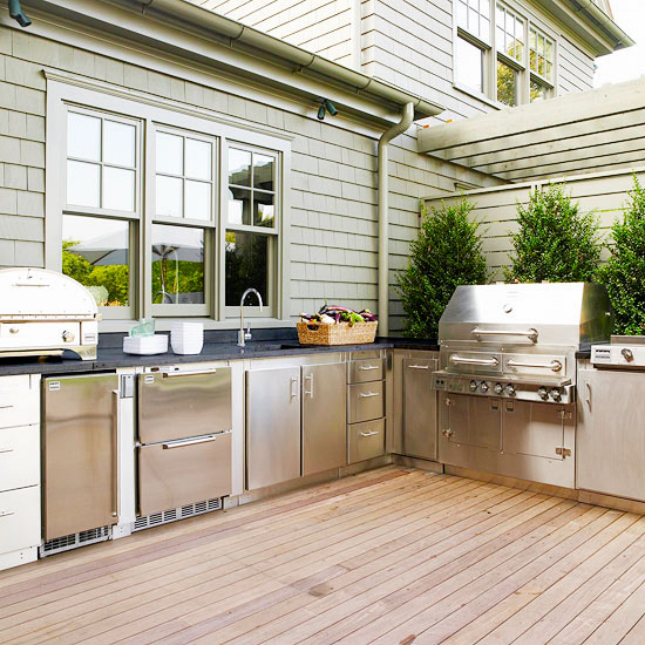 Sweet & Simple
If convenience and ease are your main focus, then try this idea out! It's a compact little kitchen with just enough counter space to get everything done that you need. The storage below is great for keeping logs and other cooking material at hand, so you never have to stray from the grill.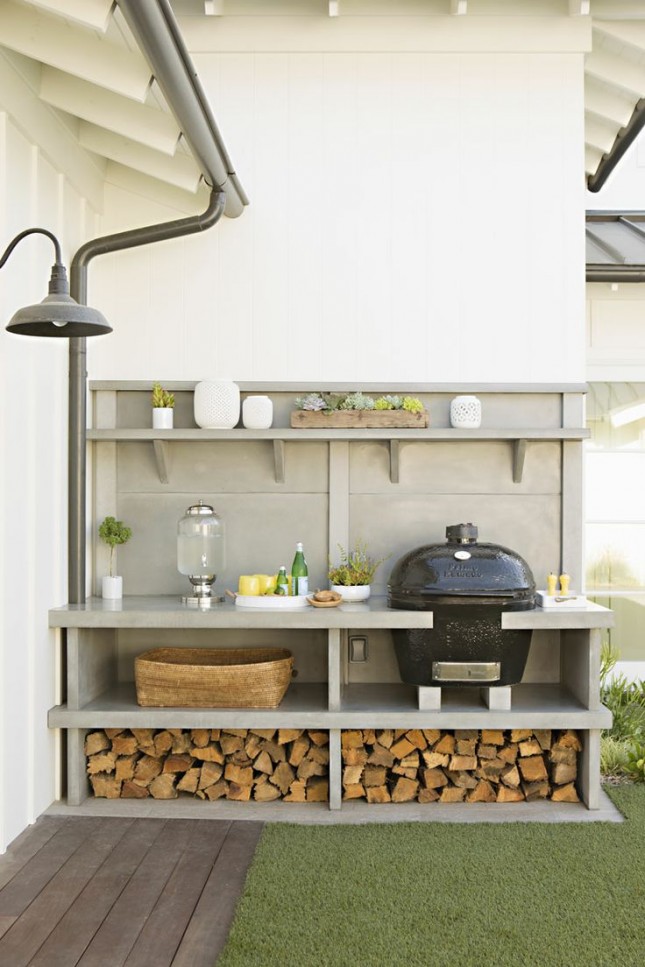 Kitchen with a TV
Cooking, being outside, and watching TV is the perfect combination for everyone. Bring all three together with an outdoor kitchen set up with a TV nearby so you never have you miss your favorite show or the latest game.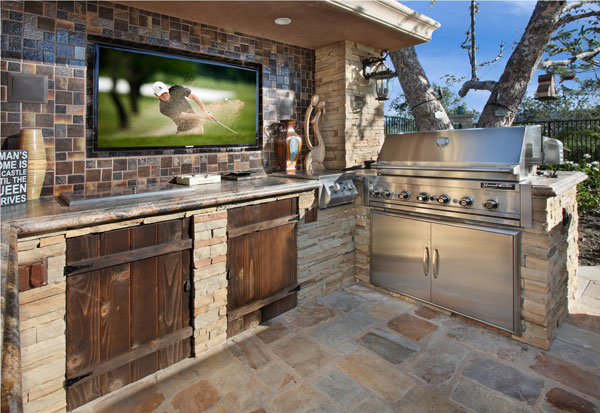 Brick
This is a great style for an outdoor kitchen because it gives you a rustic feel but with all the hook-ups for a great cooking experience.  Choose furniture and appliances that best match the tone of the bricks in your kitchen.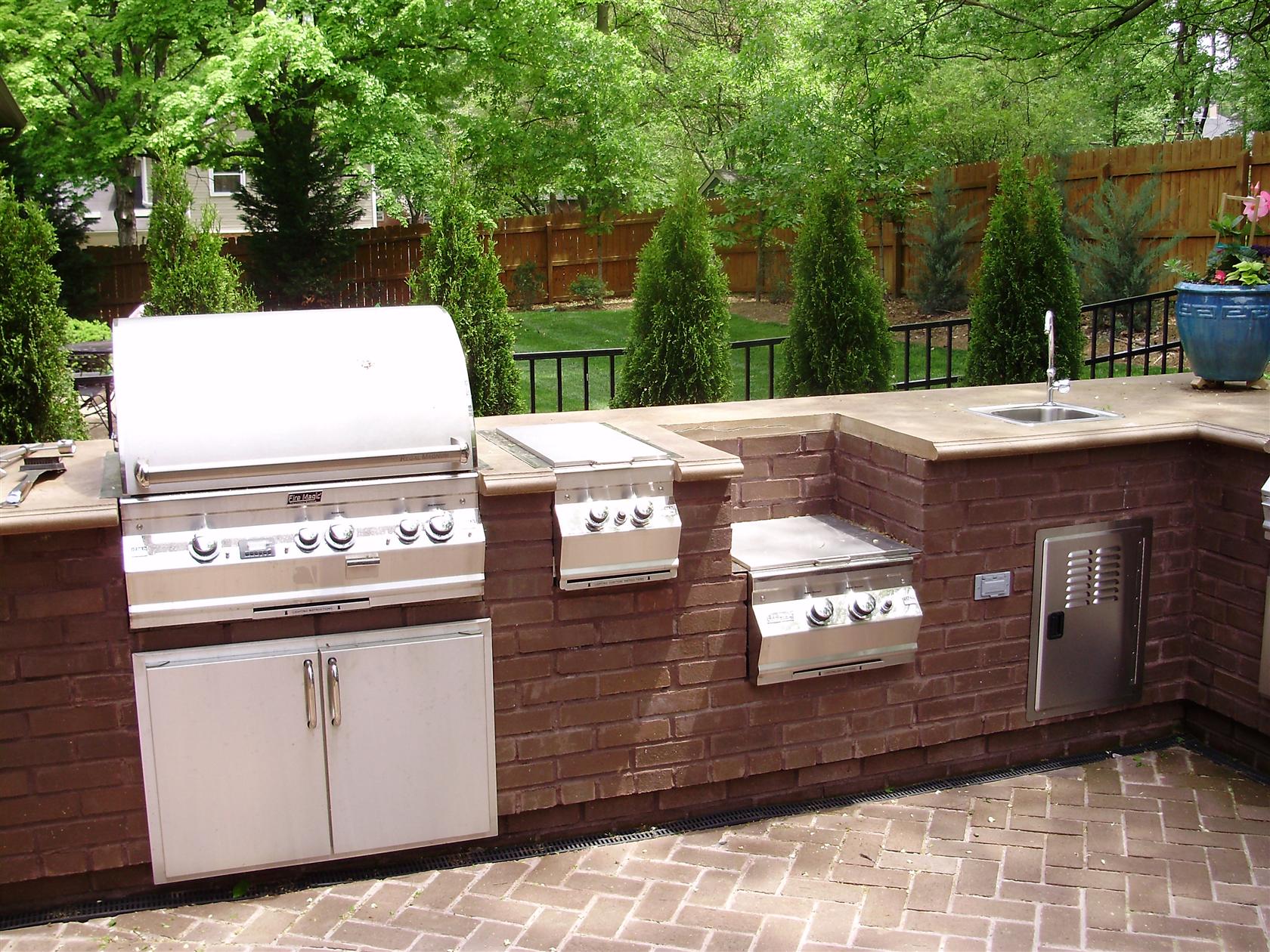 Pizza Oven
If you want a real cooking experience, then install a pizza oven in your outdoor kitchen! Not only does this add a touch of style and sophistication to your backyard, but it's also great for entertaining guests and experimenting with pizza toppings!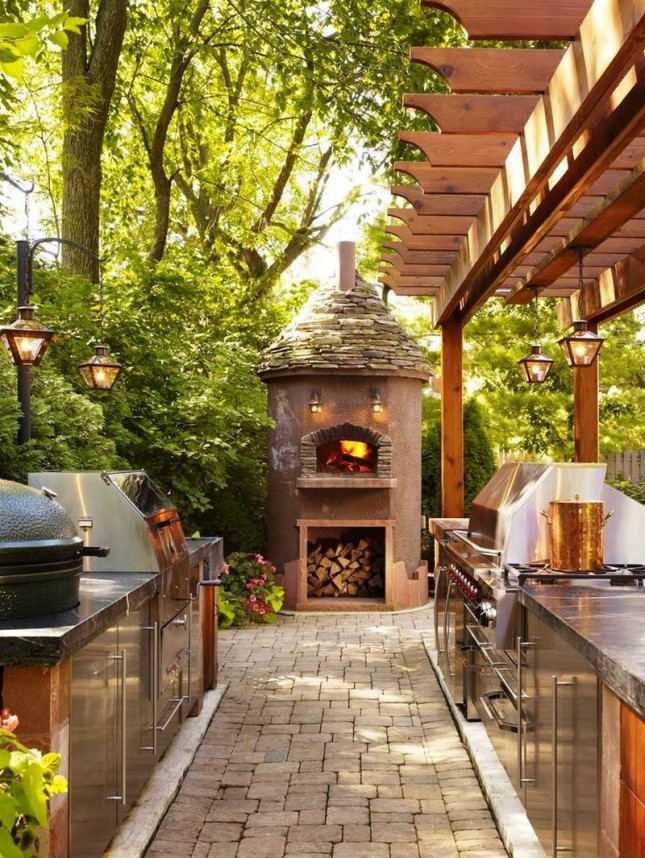 Canopy
If you live somewhere that rains a lot or the sun is just too hot during the summer, then consider building a canopy over your cooking area. This will allow you to cook outside still, but will protect you and all your cooking equipment from the damaging effects that the elements can have.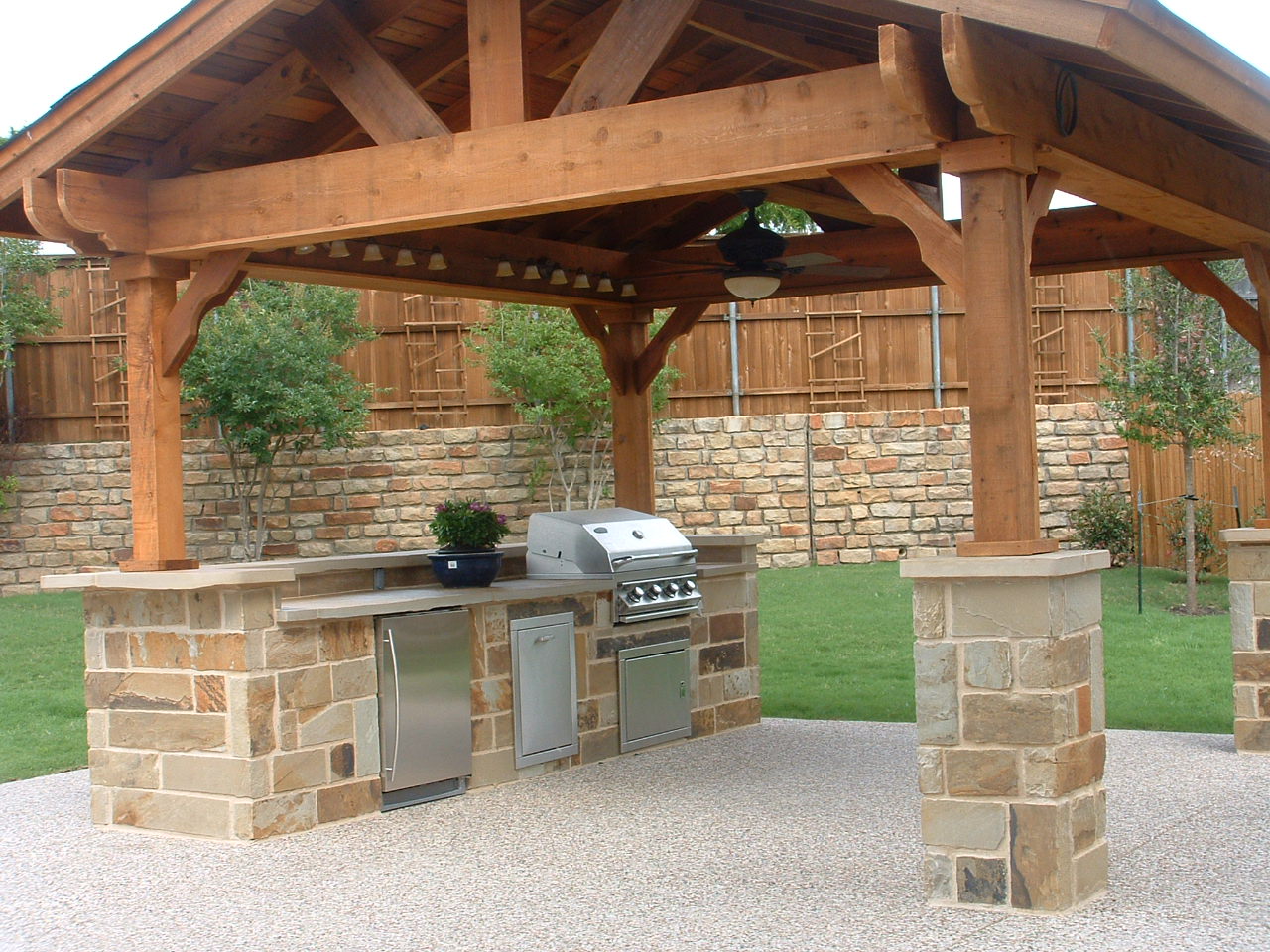 Piece of Europe
Bring a little bit of Europe into your very own backyard with this great outdoor kitchen design! The high ceiling and themed furniture adds even more appeal to your cooking area and will keep you and your guests comfortable for hours!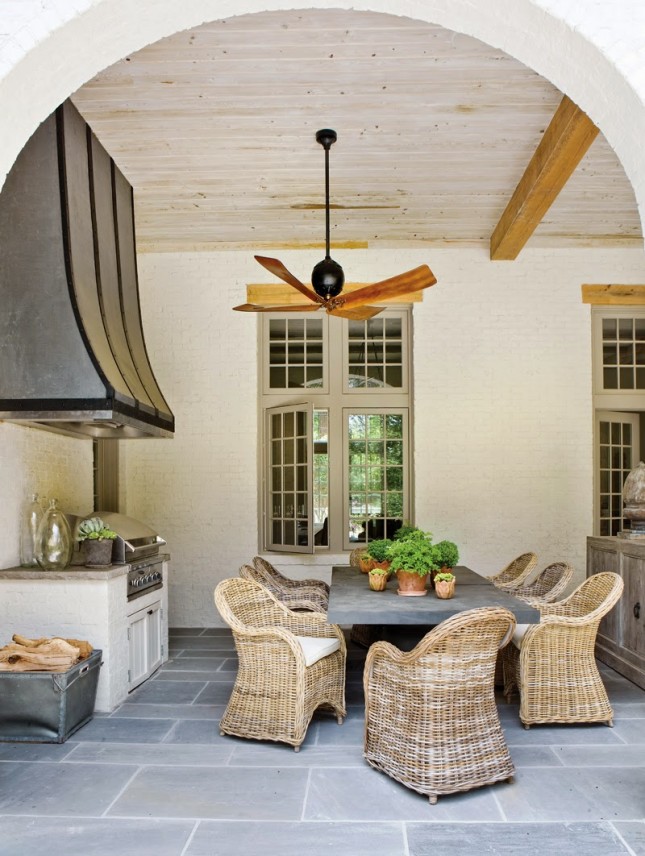 Stone
Now this is a design that's sure to catch some eyes! A sophisticated stone kitchen not only gives your cooking area a more natural feel, but also adds to the calmness and relaxation of the summer months. Add potted plants and flowers where needed to help bolster the natural feel of this style.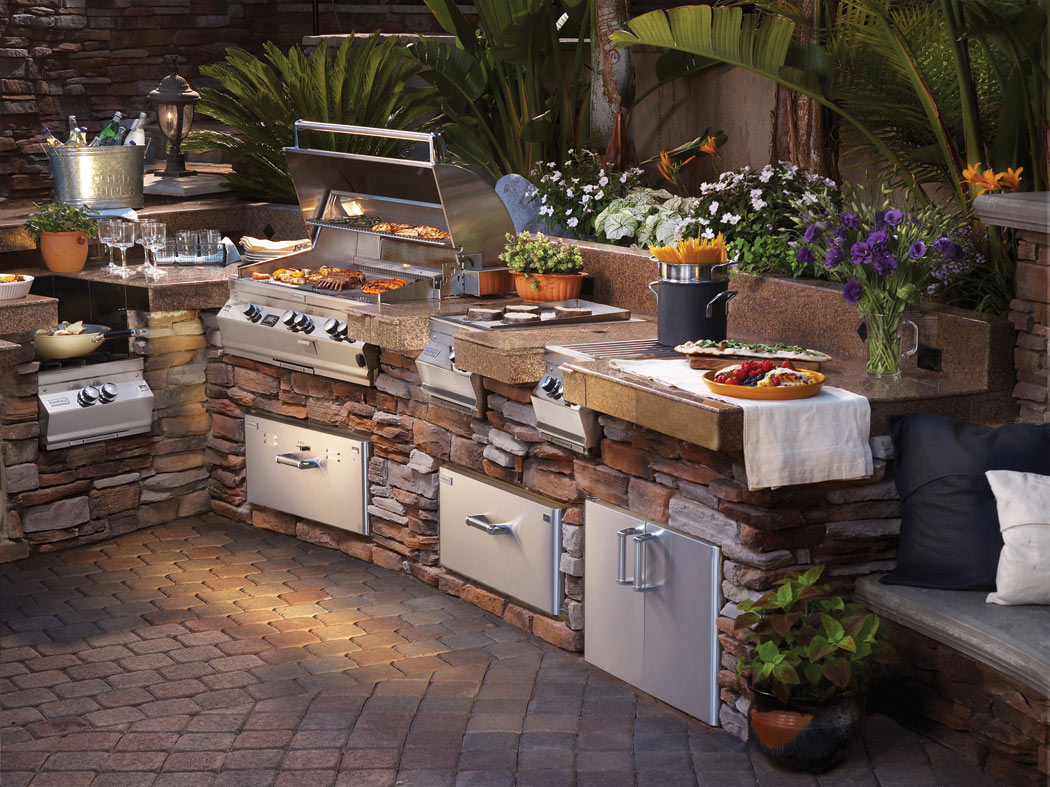 Shade
Don't worry about getting burnt when you're out grilling in the sun; build an outdoor kitchen with shades that will help you keep cool while cooking. Shades in front of the kitchen and above are an easy addition that make the cooking experience a whole lot more enjoying. Not to mention, they're great for decoration!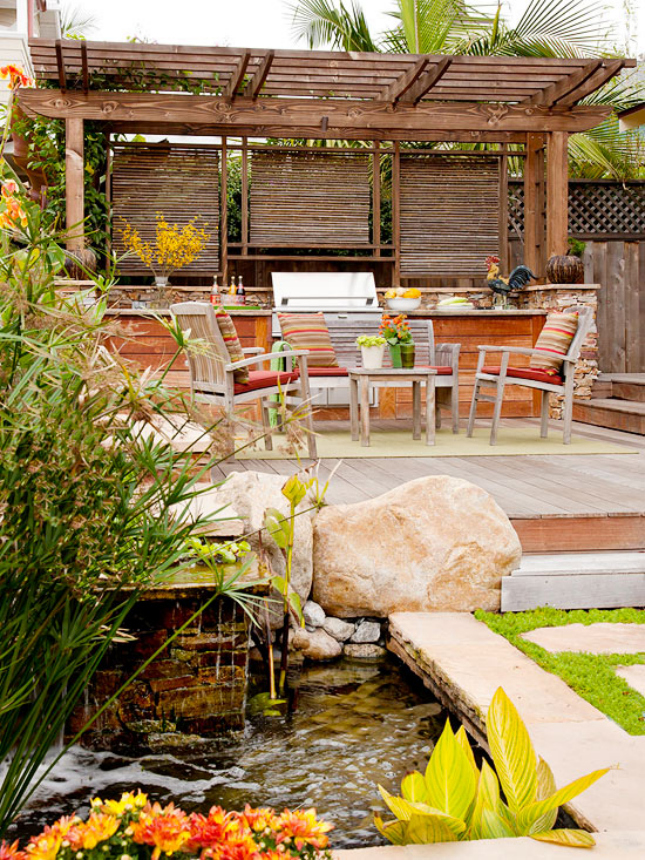 Garden & Kitchen
Do a little backyard makeover and combine your kitchen and garden into one with this great idea! Take the herbs and plants you normally use in your cooking, put them in pots, and keep them right next to your kitchen. That way, the next time you need to add a spice or herb to your meal, you just have to turn around and there it is!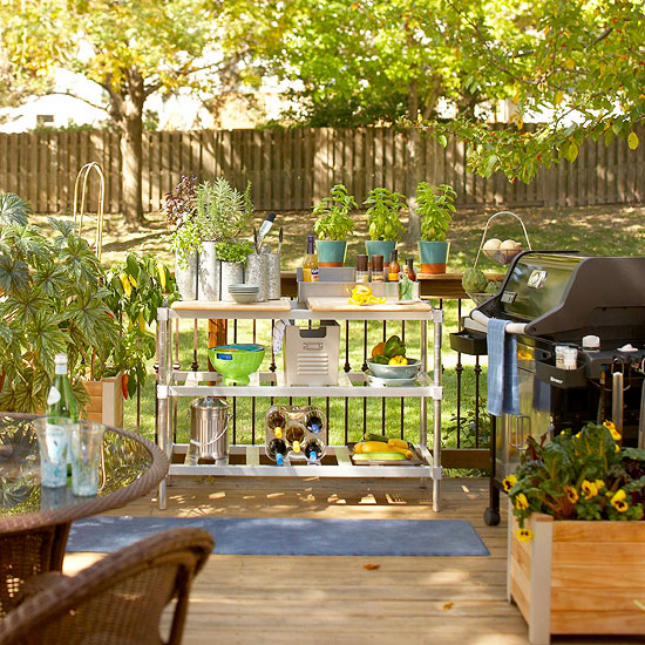 Wood
Here is a sleek and classy design that will definitely take your backyard to the next level. Make an eye-catching outdoor kitchen with this wooden design. The smooth cupboards and sides complement the slick metal surfaces and provide a great environment to bring out your inner chef!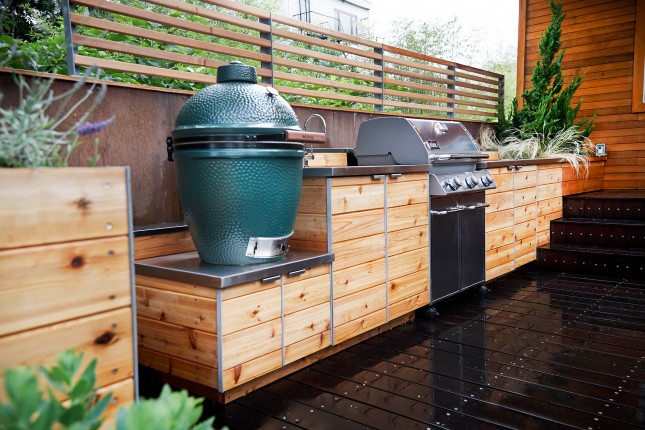 Bar & Grill
No need to get fancy when building an outdoor kitchen. If simple is what you want, then build a bar and grill cooking station that is sure to meet everyone's needs. This not only gives you and your guests a place to sit, but also the opportunity to grill up a steak or burgers whenever you want!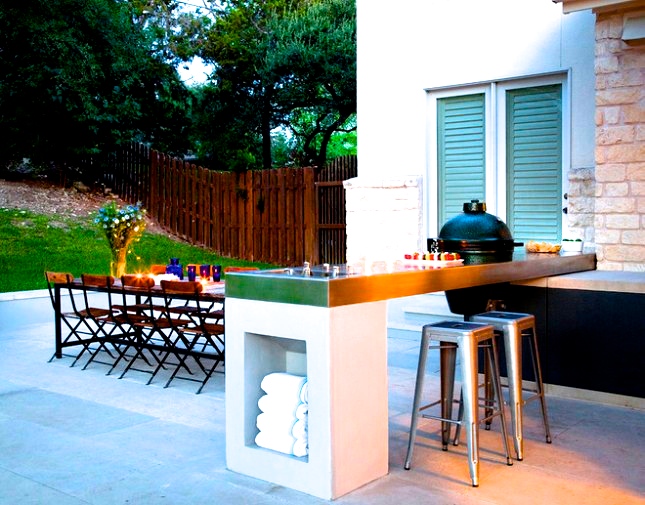 Service Window
If you love your indoor kitchen and just can't bear the idea of cooking anywhere else, then here's a great option for you! Simply install a large service window that you can open and use to seamlessly take food from inside to outside. The window will also make you feel like your outside without ever having to leave your prized kitchen!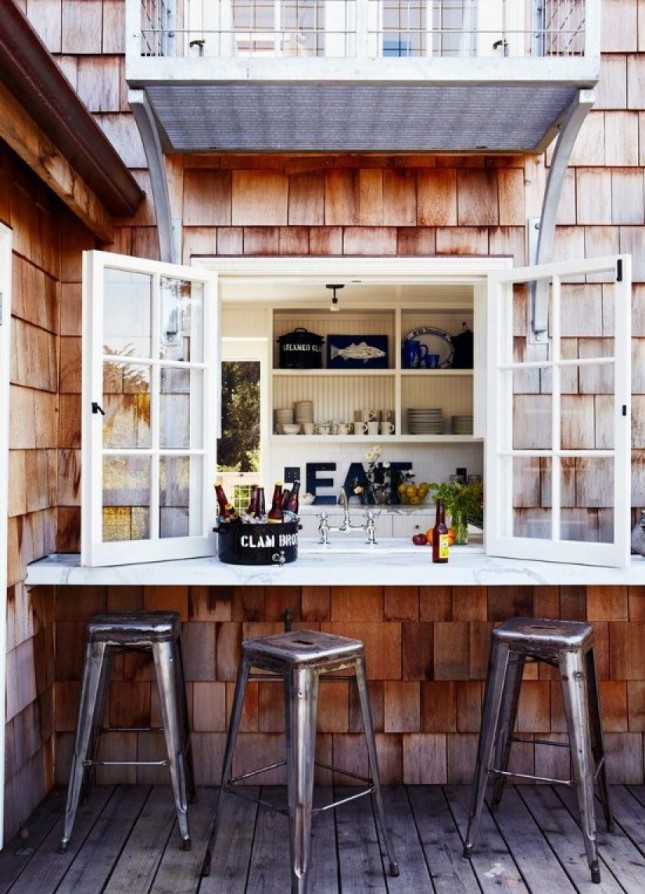 Tile
Tile is a fancy and fun way to not only get creative with your outdoor kitchen but also make it look like stunning! Just make sure you choose a sturdy tile that can withstand the weather and appliances that will match whatever color you decide to get!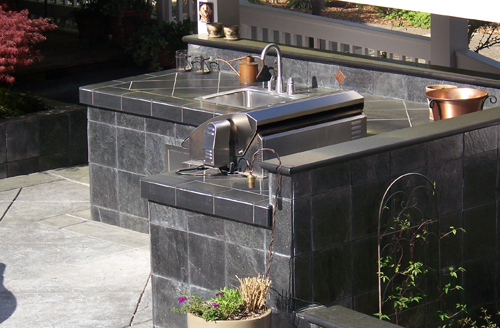 Counter Space
Not all outdoor kitchens need a built-in grill. If counter space is your focus, then this is a great idea! This design gives you plenty of room to chop, mince, cut, and grind without having to compromise space anywhere else. And, when needed, you can pull out a portable grill and still use it whenever you want!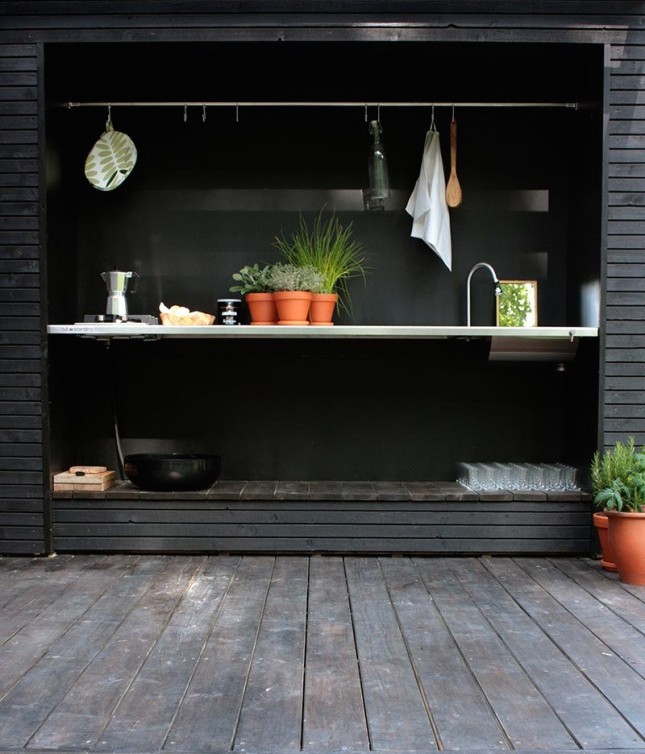 Pergola
Some of us like sitting in the sun, just not directly. If you're one of those people, then build a pergola over your outdoor kitchen. It not only adds style and decoration to your patio but also acts as a great way to filter the sunlight so you can still enjoy your backyard without baking in the heat.