We may be in the heat of August, but don't forget that fall is coming soon. To help you have the optimal fall gardening experience, I'm sharing my fall gardening checklist right here. Bookmark this page so you can come back and refer to it during September and October. It'll help you stay ahead of the fall gardening game!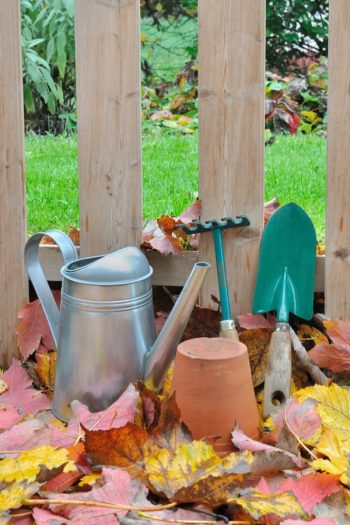 Fall Gardening Checklist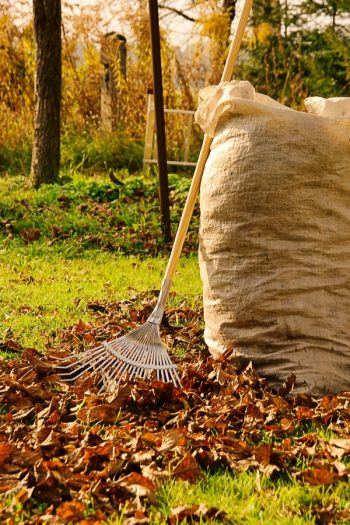 Fall Leaves
Play in them first–a little play is good for the soul!
Now get them up off the grass and out of your flower beds. They'll suffocate things if you leave them to rot.
See my post on what to do with all those leaves after you rake them up.

Fall Lawn Care
When you rake up the leaves, pay attention to the grass. Now is the time to fix problems that could carry over to spring.
Use a heavy-duty lawn rake to also remove thatch and help aerate the grass.
The last time you mow for the year, leave the grass longer. Leaving the grass longer helps it survive winter better.
Feed the lawn with a fall fertilizer that is high in phosphates and potash.
Use a garden fork to aerate high traffic and frequent play areas of your lawn.

Fall Garden To-Dos
Before the snow flies, clean up the garden beds.
Remove this year's plants, especially tomato plants that leave bacteria in the soil if left to rot.
Mulch any tender plants to help them winter over.
Plant spring bulbs such as tulips, daffodils and crocus before November.
Cut back spent perennials to encourage better growth in spring.

Fall Landscaping Tasks
Wrap up evergreen shrubs in burlap if you live in a snowy region. Secure the burlap with twine.
Use deer fencing and netting to protect tender trees and plants from hungry deer over the winter.
Final Fall Gardening Checklist Hints
Once all your fall gardening tasks are complete, don't forget to clean up your tools and store them properly. Nothing's worse than heading out for spring gardening, only to discover that your tools have rusted over the winter!