Crabapple trees are gorgeous. They are well known for their deep green foliage and colorful, fragrant flowers in spring. However, there are a lot of different varieties of crabapple trees to choose from. Some might be right for your situation, while others may not. If you've been wanting a crabapple tree in your yard but need a little guidance, here's a list of some of the most common varieties so you can choose the right kind for you, and you can purchase yours at Garden Hills Nursery. 
1. Adams Crabapple
The Adams variety produces 1/2 to 3/4 inch fruit that stay on the tree until winter sets in. The fruit will attract birds, and the tree has a good ability to resist common diseases. The Adams variety is suitable for zones 4 to 8, and grows 15 to 20 feet both tall and wide.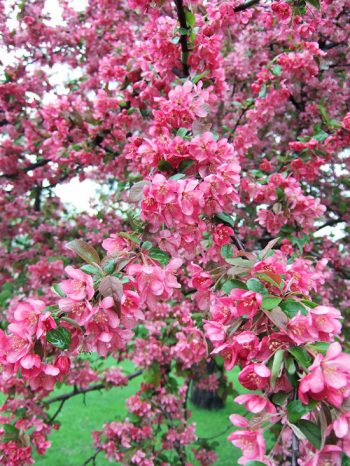 2. Ann E
The Ann E crabapple has rosy pink buds that open to nearly white flowers. The shape almost gives it a weeping tree look. It has great resistance to many diseases, and grows 10-12 feet tall and wide. Its fruit grows about 1/2 inch in diameter and stays on the tree into winter. Zones 4 to 8.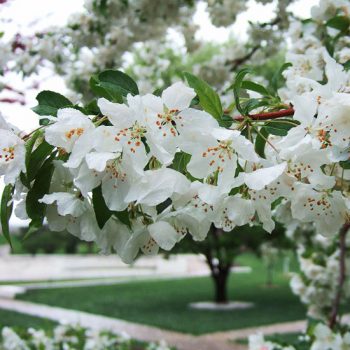 3. Brandywine
The Brandywine Crabapple develops 1-inch fruits that attract birds. It's rose-like blooms are a real show stopper. It grows in zones 4 to 8, and gets 15-20 feet tall and wide.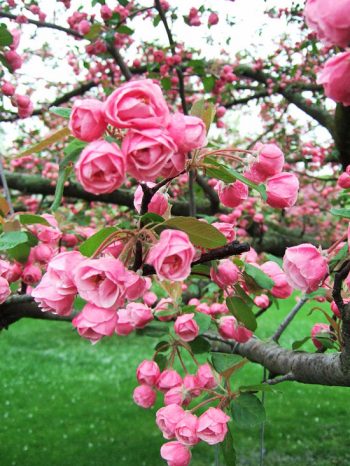 4. Callaway
Callaway crabapple trees produce larger fruits, about 1 to 1 1/2 inches. Single, white, fragrant flowers appear in spring. It does well in the South because it has low-chill needs for producing fruit and flowers. It's pretty disease resistant even in humid conditions. It grows 15-25 feet tall, and about 12-20 feet wide in zones 4 to 8.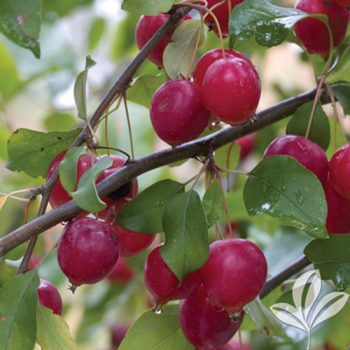 5. Ellen Gerhart
The white flowers and red fruit of the Ellen Gerhart make it a real stunner in springtime. It bears 3/8 inch fruit of bright red, and attracts birds. Like other varieties, the fruits will stay on the tree until winter. It's shape is more of an upright, spreading tree that grows 15-20 feet in both height and width. Zones 4 to 8.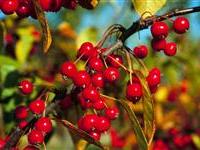 6. Madonna
Another type with white blooms, the Madonna produces 1/2 inch fruit that's most golden, but with sprinkles of red. It resists many diseases and grows 15-18 feet tall. Width is about 10-12 feet. It also has a lovely weeping shape. Zones 4 to 8.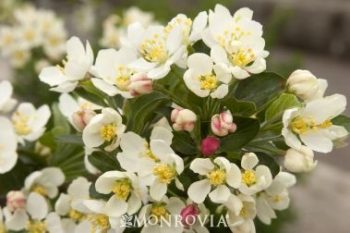 7. Prairifire
The Prarifire crabapple has very vibrant, hot pink blooms and grows reddish-purple fruit of 3/8 to 1/2 inch. Its blooms provide beautiful contrast with the foliage and bark. Height and width are both around 15-20 feet when full grown. Zones 4 to 8.