Even if you're not much into traditional house plants, you still have options to bring some of the outdoors in. Why not buy or cut a bouquet of flowers? Pick up a few small cactus plants for your windowsill. And while you're at it, look for some indoor trees. There are many variety of small indoor trees that are easy to care for and have a big design presence. Here are just a few.
1. Money Tree
You've probably been told all your life that money doesn't grow on trees, and it sure doesn't (if it did we'd all be on a beach somewhere, now wouldn't we?). But this tree has long been believed to bring good luck, and isn't that almost the same thing? Its slender, often braided trunk becomes thicker and more textured as the tree grows. Its shiny leaves have a tropical look to them. If you have a bright or medium-sunny spot in your living room, your money tree will do well there and be easy to care fo. It can grow up to 60 feet all outside, but indoors it will only be 3 to 5 feet. They light the soil slightly moist, so water regularly.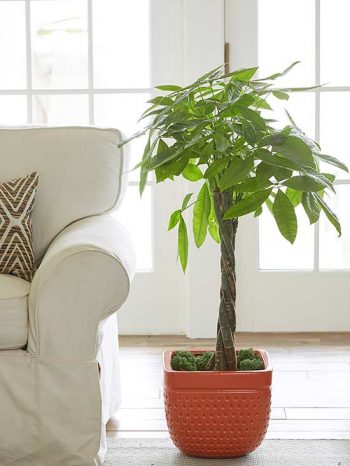 2. Ponytail Palm
This easy-care tree stores water in its bulbous base. This means it can actually go weeks between waterings. It has almost string-like, cascading leaves that resist wilting. Ponytail palm grows slowly, so if you want a larger one, buy the biggest one you can find or be very patient. In your home, they'll easily grow to 6 feet high. Find a sunny spot near a east or west-facing window where it won't get too hot in direct sun.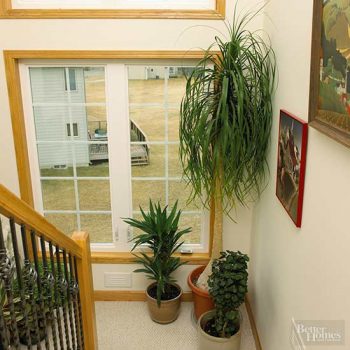 3. Madagascar Dragon Tree
The Madagascar dragon tree comes in different forms. It may have a single stem, double braid, clump, or even triple braid form. It likes bright light but can do okay in a darker corner. If this is your situation, be aware that the tree may lose some of its lovely red coloring. They are pretty drought tolerant, only needing a drink when the soil's surface dries out. At 4 to 6 feet in height, Madagascar dragon tree makes a nice addition to any decor.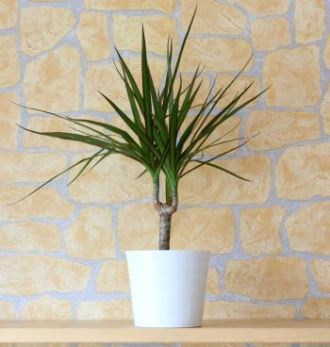 4. Norfolk Island Pine
If you're a fan of evergreen trees, you'll love the Norfolk island pine. These prefer full sun, so give it the best light you can. They don't need a ton of water, so give them water when the soil is slightly dry. A peat-based soil mix is great for them, as they love an acidic soil pH of 5.5 or even 4.5. A weak solution of liquid plant fertilizer is a good idea during the growing season. A lot of people love to decorate these along with their Christmas tree during the holiday season. Small ornaments or thin tinsel looks great.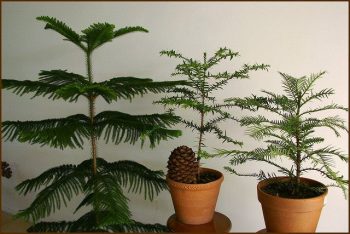 5. Corn Plant
Corn plant almost has a palm tree-like form, with its long, wooded trunk. It's easy to care for, and it even helps clean your indoor air, removing toxins like ammonia and toluene. The leaves can be 2 feet long and 4 inches wide, and are dark green with a cream or yellowish stripe down the middle of each one. Flowers are possible when grown indoors, but rare. Keep it away from direct sun, as this can scorch the leaves, and don't let it catch a draft. Never let it stand in water, and make sure your planter has a good drainage hole.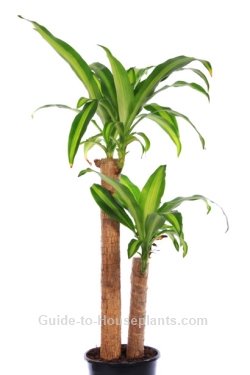 Learn more about indoor tree gardening with these articles: 
Easy Ways to Prune Fruit Trees
How to Grow Fruit Trees Indoors