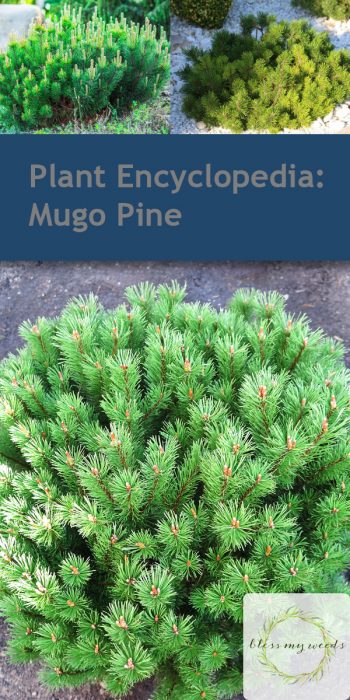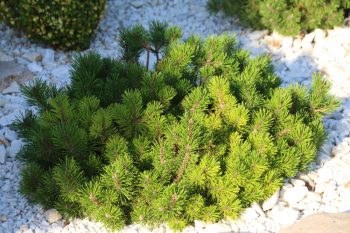 The Mugo pine, or Pinus Mugo, is a fantastic option for gardeners who want something rugged and interesting in their outdoor landscape. Mugo pines have dark green foliage with that wonderful fresh pine smell, but they are much smaller and more manageable than their larger pine tree cousins. Today's Plant Encyclopedia will fill you in on all the need-to-know aspects of the Mugo pine.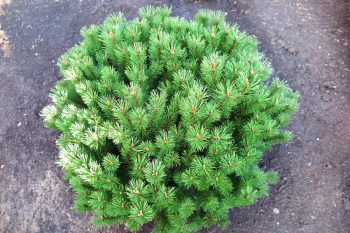 Sunlight Needs: Mugo pines do well in Zones 3-7. They tolerate partial shade to full sun, but do not necessarily love blazing hot summers. If you live in an area of hot summers, consider planting your Mugo pine in a partially shady area rather than full sun. This should help ensure good results during the hottest time of the year.
Watering Needs: The soil around a newly planted Mugo pine needs to stay fairly moist until the plant has really settled in to the landscape. Mugo pine does best in well-drained soil, but it is not picky about the pH level. Once the Mugo is established, it is fairly drought-tolerant and easy to care for!
Foliage: The foliage of a Mugo pine is the same lovely dark green shared by most evergreen plants. During spring, the plant will sprout a lighter, more yellow color of new growth, called candles.
Must-Know Plant Care Tips: The roots of the Mugo pine grow pretty close to the ground surface, so a good mulch is helpful during the summers to keep the roots cool. Mugo pines are pretty maintenance-free, but you may need to spray for sawfly infestation if you live in a central-southern location. Northern climates rarely experience sawfly infestations.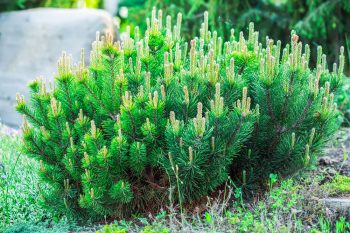 Plant Problem-Solver: Some people plant Mugo pines assuming that they are all dwarfs, but this isn't the case. There are some varieties, such as the pumilio, which grow up to 5 feet tall and spread up to 10 feet wide. If you find that your Mugo is spreading more than you would like, remove some of the candles in spring to slow the growth rate of the plant.
Pretty Pairings: Low-growing Mugo pine varieties like the "mops," are excellent for pairing up against your foundation. They successfully hide any unsightly aspects without interference from its root system.
Resource: Gardening Know How