Neon Pothos – rightly named because of their vibrant neon color – are charming houseplants. The neon green color spreads all across the leaves and stems, which makes them absolutely stunning. The Neon Pothos brighten up any room they're kept in, which is why they're a popular indoor plant.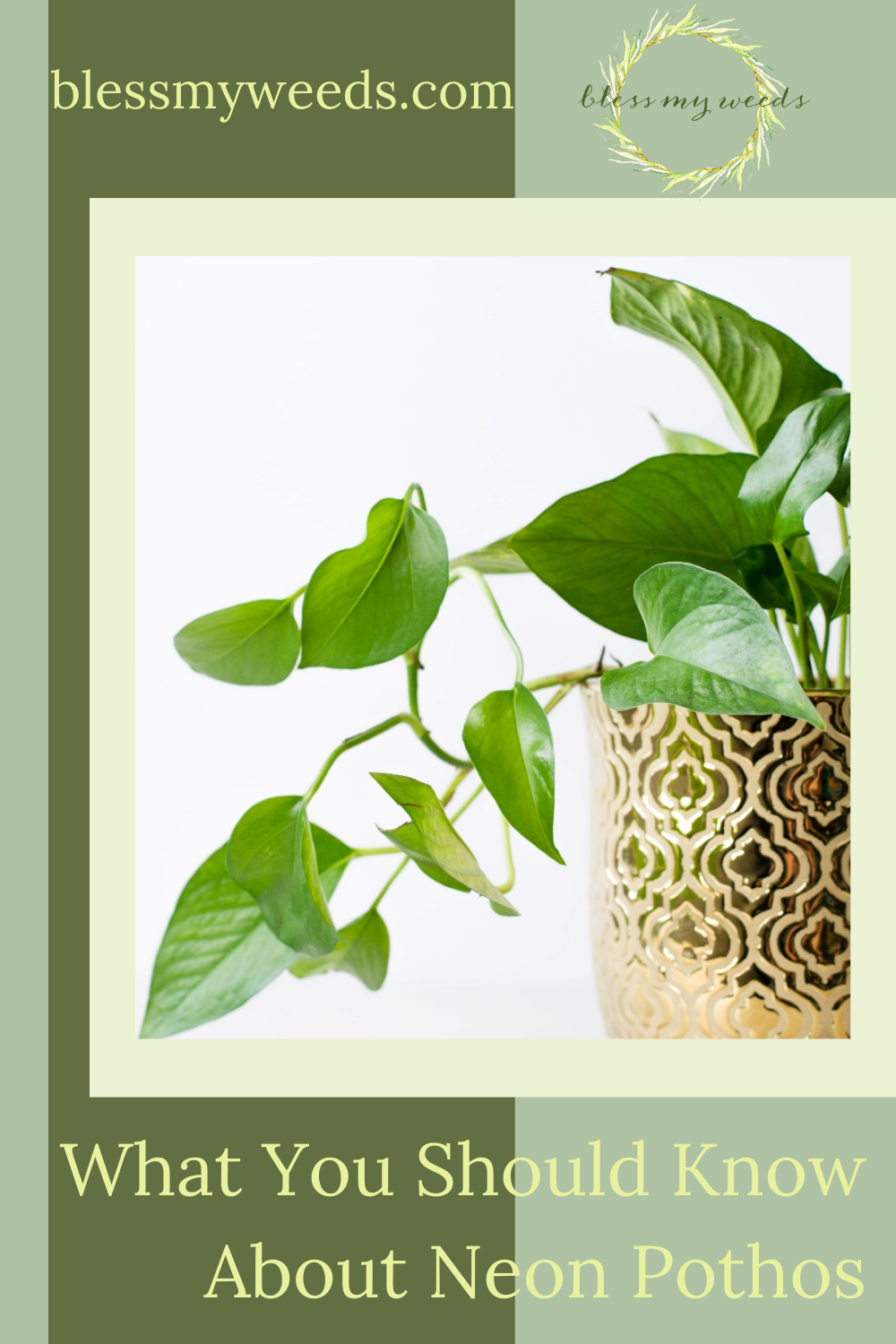 Neon Pothos, scientifically named the Epipremnum Aureum, belongs to the Araceae family. They're common species in the subtropical forests in Australia and Asia. It also goes by the nickname Devil's Ivy because it proliferates well in dark places.
These plants are one of the most popular houseplants and are so for all the rightly justified reasons. If get a kick out of their characteristic neon color, you should learn everything there is to know about them. After all, you should know whether something you're planning on planting is easy to grow and maintain.
Characteristic Features of Neon Pothos
Neon is the most distinct variety among the Pothos. They feature characteristic heart-shaped leaves that are golden-yellow or bright chartreuse. The leaves of these plants do not have any variegation. What's more, the newer leaves are brighter in color. The brightness of the neon color reduces as the plant ages. One of the most prominent features of the Neon Pothos is that its leaves can grow to be as big as 3 feet – which is pretty big for leaves!
Growth Requirements
The Neon Pothos are quite easy to grow. You don't have to invest too much of your time or effort to make these plants thrive. If you're planning to grow these plants in your home, familiarizing yourself with the growth requirements of Neon Pothos will help you a great deal.
Light
These plants thrive best in low to medium indirect sunlight, which is what makes these plants ideal for indoor use. If you expose the Neons to direct sunlight for too long, their leaves will soon lose the vibrant color and become dull-yellow. In fact, prolonged exposure to direct sunlight might burn the leaves because the leaves of Neon Pothos are extremely delicate.
Water
Neon Pothos are low-maintenance that adds to their charm as houseplants. They do not need to be watered aggressively. You should water these plants after the soil starts to appear dry. Overwatering will cause the roots to rot and will eventually lead to the plant's death. The first sign that you've overwatered your plant is the leaves turning pale yellow.
Ideally, Neon Pothos should be watered every week or once in two weeks, depending on how hot the weather is. What you must remember is that if you've planted your Neon Pothos in a small pot, you'll be required to water it more often as there isn't much soil to hold the water.
The best practice is to let the water in the soil dry out to about 75% before watering the plant again. Also, make sure that the pot that you're using has holes at the bottom to allow excess water to flow through. Neon Pathos is a resilient plant species. They'll bounce back if you forget to water them.
Soil
Another reason why Neon Pothos make great houseplants is that they aren't critically particular about the soil type. As we mentioned above, Neon Pathos are resilient plant species that do well in most conditions. However, these plants grow best in soil that's nutritious, has good drainage, and a pH range of 6.1 to 6.5. You can use a peat-based houseplant soil mix to make sure that your Neons grow optimally.
Temperature and Humidity
Neon Pothos thrive in places that are warm and humid. Temperatures from 70 to 90 Fahrenheit suit these plants the best. To make sure these plants get the right humidity levels, you can keep them in your kitchen or bathroom, where the humidity is relatively higher than the rest of your house. In case you've kept the potted plants in your living room, you can either use a humidifier or mist the plant regularly.
If the air of the room is too dry for this pothos, the tips of the leaves will start to turn brown. In this situation, moving the plant to a more humid environment will restore the vibrant neon color of the leaves.
Fertilizer
If your soil mix is nutritious, you don't need any fertilizers for your Neon Pothos. These plants aren't heavy feeders, so they don't need heavy doses of fertilizers for optimum and healthy growth.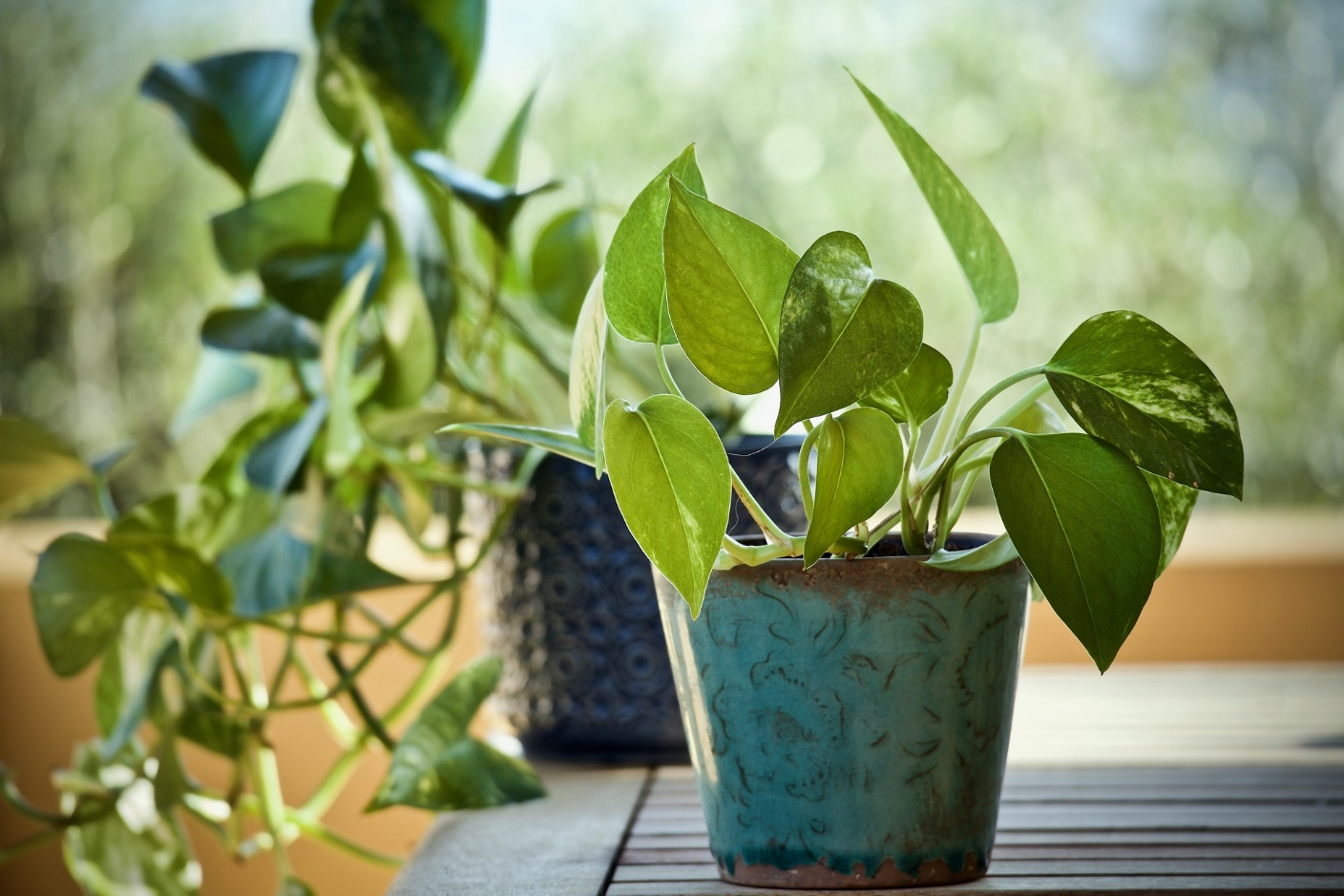 Potting and Repotting
Neon Pothos grow at a pretty good rate. They grow big fast so you'll have to repot your plant sooner or later. They usually come in 4 to 6-inch pots. Once they're big enough, you'll need to repot them in an 8 to 10-inch pot. It won't take long for these plants to start to trail, and that's when a hanging basket will be the best option.
It's best to repot Neon Pothos every 2 to 3 years to avoid the overcrowding of the roots in the pot. Always remember – winters aren't the best time to repot because that's when these plants are in the resting phase.
Taking Care of Neon Pothos
Despite the fact that Neon Pothos are low-maintenance plant species, they do need a little care. Let's have a quick walkthrough of the basic care that your Neon Pothos need to thrive.
Do not over or underwater. Overwatering will cause the leaves to turn yellow and roots to rot. On the other hand, under-watering will lead to stunted growth.
Protect your plants from direct exposure to sunlight. The leaves of these plants are extremely delicate. Direct sunlight will burn them. Even if the leaves don't get burnt, they'll turn yellow – in short, they'll lose their vibrant neon color. Place your plant in an airy, warm, and humid place.
Always pot your pothos in a pot that has holes on the bottom so that all the excess water flows. This stops the waterlogging of the roots.
Once the vines of the plant grow long enough to trail, transfer the plant into a hanging basket.
Prune the vines regularly. Cut the vine a little above the leaf. The more you prune, the faster the vines will grow back. Cut the vines that don't have any leaves. It won't only make the plant more visually appealing, but it'll also boost the overall plant growth.
Signs that Your Neon Pothos is Dying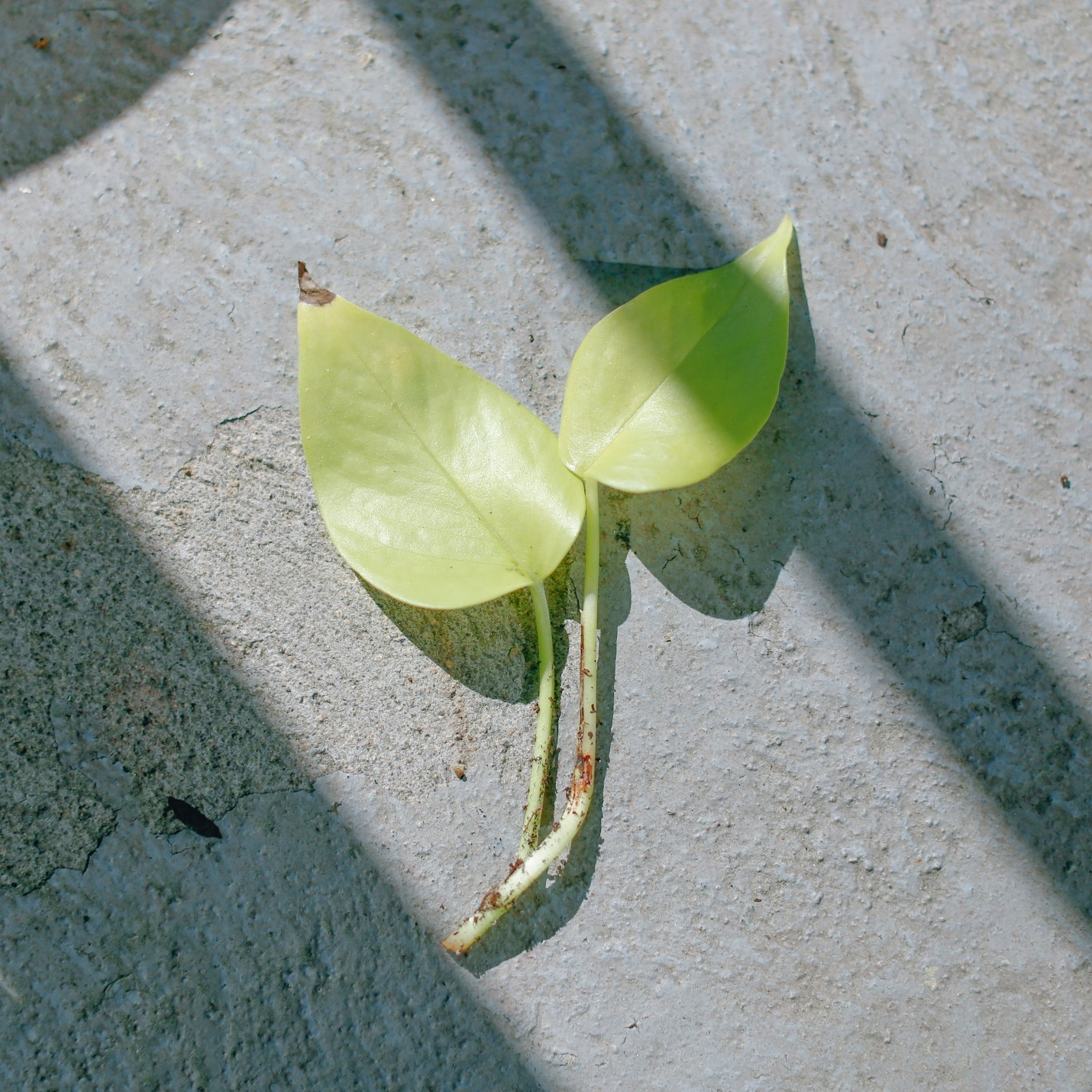 Nothing is more heartbreaking than seeing your beloved plants die – only if you could revive them. In the case of Neon Pothos, timely detection of falling health can make revival possible. Below are the signs that your beloved Neon is dying.
Discoloration of leaves, leaves start to turn brown or yellow
The soil will start to radiate a foul odor
Stunted growth
Leaves will fall off
Leaves will appear droopy
If you observe any of these signs, be alerted that your Neon Pothos is on the verge of dying, and you need to do something – fast.
How to Save a Dying Neon Pothos
The first and foremost step that you must take to prevent your plant from dying is to identify the cause because the revival method will vary with each cause. Evaluate whether it's due to overwatering, excessive exposure to sunlight, or poor soil, and then take the necessary steps.
· Overwatering
If you've been overwatering your Neon Pothos, it's time to give it a break. When the soil is too wet, it gets difficult for it to breathe and thrive. SO, don't water your plants for a few days because it would give the plant time to use the available water. However, once you notice that the soil has started to look arid, know that now's the right time to water.
· Under-Watering
If you've not watered your plant for too long, your plant may be dying due to under-watering. Under-watering can cause stunted growth, discolored leaves, brown edges of the leaves, and drooping leaves. First, remove all the leaves that are discolored. Next, water the plant so much that water starts to flow out from the holes at the bottom of the plant and let the plant be.
· Excessive Sun Exposure
If the leaves of your Neon Pothos are burnt, it's highly likely due to excessive exposure to direct sunlight. In this case, change the location of the plant right away and place it somewhere where there's no direct sunlight.
· Rotting Roots
If your plant is wilting, it's a sign that the roots are rotting. In this case, remove the damaged leaves. Next, check the roots. If the root is extensive, change the soil immediately. Repotting the plant in fresh soil is highly recommended.
· Pest Infestation
If you observe specks on the leaves or the leaves are falling off without any apparent damage, it might be due to pest infestation. When this happens, the first step should be to cut off the damaged part and isolate the plant. Spray the plant, especially the leaves' underside, with a mixture of neem oil and water every other day.
· Inappropriate Temperature
Inappropriate temperature is yet another reason that can lead to plant death. The signs that your Neon Pothos isn't getting the right temperature include shrunken, distressed leaves with brown spots. The remedy involves the removal of affected parts of the plant. Then, move the plant to a place where the temperature is at least 55 Fahrenheit.
· Poor Humidity
Dried leaves are a sign of poor humidity. To make sure the damage doesn't get exacerbated, maintain the level of humidity at 60% and mist occasionally. Using a humidifier is also a good idea.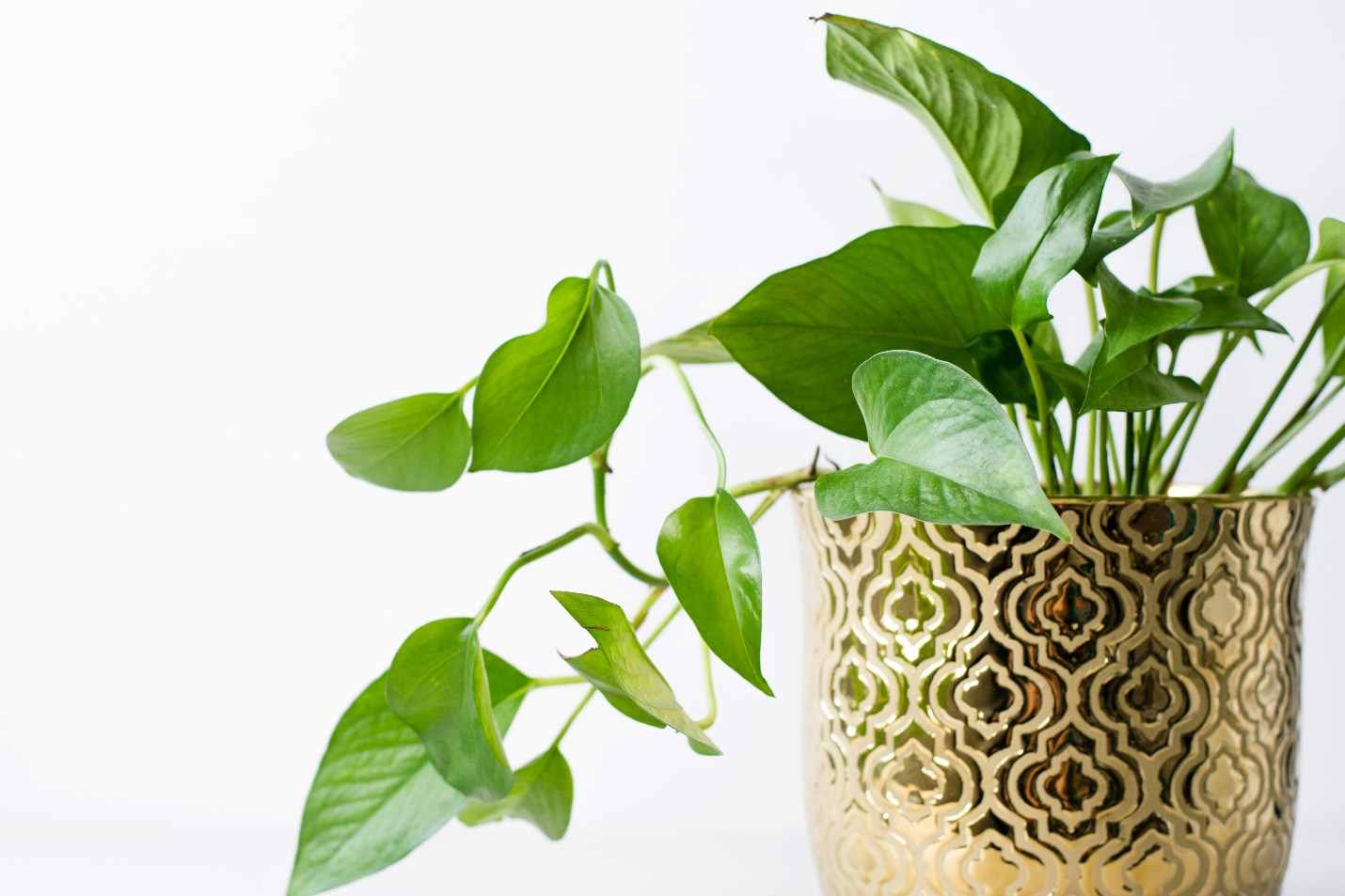 Closing Words
Neon Pothos plants are low-maintenance and highly attractive houseplants that have got no critical growth requirements. And this is exactly what makes them such charming houseplants.