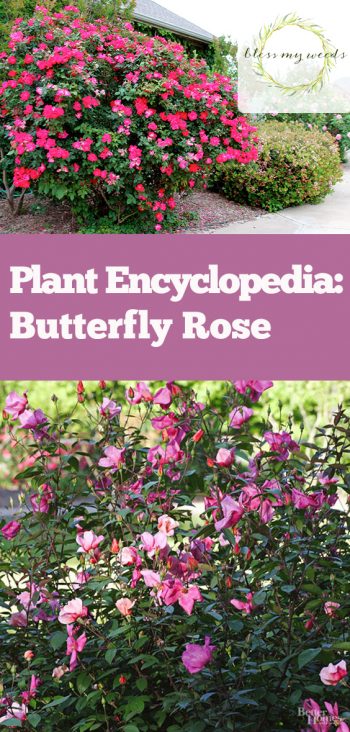 Plant Care Basics

Grow Zone Recommendation: Butterfly rose is recommended for growth in USDA agricultural zones 6 to 9, classified as a rose / shrub.
Sunlight Needs: Butterly rose requires sunny conditions. Full sun is usually best, but some shade is usually tolerated.
Watering Needs: Butterfly rose requires moderate watering. Water well and keep moist until established, then water deeply a couple of times per week.
Average Size: The full grown size of butterfly rose can range from 4 to 10 feet, depending on your conditions and the variety you plant. They can grow from 3 to 8 feet in width so don't plant them too close together.
Foliage Color: A repeat bloomer, butterfly rose blooms during the spring and summer in colors of pink, red, yellow, or orange.
Must Know Plant Care Tips: Spider mites and aphids can be a problem with butterfly rose, just as other varieties of rose bushes.Occasionally, mild black spot can affect the plant. Otherwise, butterfly rose is fairly resistant to disease and insect infestation.
Plant Problem Solver: You can blast away spider mites and aphids with your hose when you see them, or use other types of aphid control recommended for roses (such as a mild insecticidal soap).  If you see black spots, simply prune away the affected leaves. As an all-over treatment for the bush, you can spray the entire shrub with milk. Yes, regular milk! This treatment can be used after pruning and each growing season.
Pretty Pairings: You can plant butterfly rose with many of the same plants you'd pair with rose bushes. These include speedwell, daylilies, lavender, tickseed, bee balm, shasta daisies, Russian sage, pincushion, and black-eyed Susan.