In the gardening world, peonies are not only known for their large and beautiful blooms, but are also famous for their long life. In fact, they'll bloom happily in your garden for decades without taking over the space or getting too crowded. However, sometimes you might want to divide some clumps or share them with neighbors and friends. Here is how to divide them without taking too much of a risk. Dividing perennials is easy with this guide!
1. Time it Right
Transplanting and dividing peonies is best done in the late fall, after a hard frost has made a visit to your garden.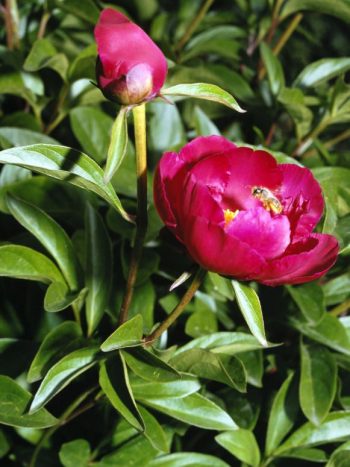 2. Weed Out the Bad Ones & Start Digging
Cut any bad peony stems down all the way to the ground and toss them aside. Then dig up the clump you want to divide with a spade around the perimeter, until the roots can easily be lifted out. Shake the soil from the roots. You should see the tuberous roots, large and small. There will also be a crown with plenty of "eyes" at the top. This mother plant can be divided into several new plants.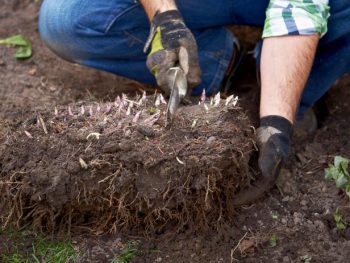 3. Divide & Plant
With a sharp garden knife or hand pruning tool, cut through the crown. Be careful that each section has one strong, healthy tuberous root and 3 to 5 eyes. Then dig a shallow hole and place the divided sections into the hole with the eyes facing upward. Cover with about 1.5 inches of soil, keeping your "new" sections spaced about 3 feet apart. Don't plant to deeply, or you'll find a reduction in blooms. After planting, water thoroughly. Keep the soil moist until the ground freezes, and then apply about 4 inches of mulch for protection and insulation. Be aware that your divided plants may take a couple of years to begin blooming, but you'll be richly rewarded with the gorgeous flowers for years.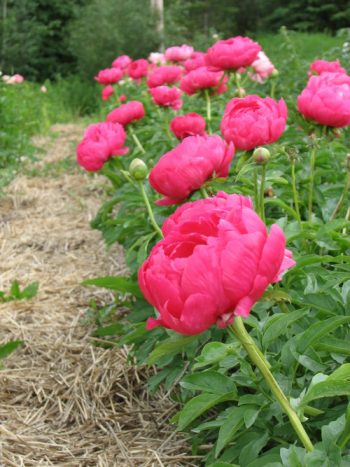 Looking for flower gardening for beginner tips? Look no further! 
Flower Color Combos That Are Sure to Pack a Punch